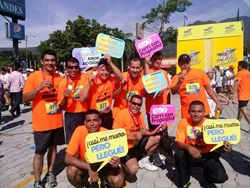 Los Angeles, CA (PRWEB) July 15, 2014
Andrews International (AI) isn't just keeping pace with the competition in the security industry; now, they're keeping pace with international runners as well. Twenty-five executive protection personnel from the security company ran in La Prensa's 38th International Marathon in San Pedro Sula, Honduras. La Prensa, Honduras' largest national press organization, sponsors the marathon each year to promote camaraderie and achievement between Hondurans and international runners.
This year's competition, the "Gold Edition," marked the 50th anniversary of La Prensa, distributor of Honduras' national newspaper. Every competition sees more than 2,500 athletes gather from countries including Panama, Costa Rica, Mexico, Colombia, Guatemala, El Salvador, and Kenya. This year, more than 4,800 participants and spectators gave their support to the event. The top three runners hailed from Kenya.
AI employees exchanged their security boots for running shoes to join a team sponsored by their client, the largest clothing manufacturer in Honduras. As one of the cornerstones of Honduras' economic development, the clothing manufacturer urges employee and client participation in the most well-known community event of the year. Marathon officials note, "The La Prensa Marathon has become the inaugural mark of the June Fair and the pride of San Pedro Sula, because it promotes the values of perseverance, dedication, and optimism. These values are indispensable for families and society as a whole."
"Andrews International is a company famous for putting down roots and improving communities wherever they work. Now, we're proud to show that we don't just invest in our communities in the United States, but those abroad as well," says Tom Cseh, Deputy Director of AI's operations in South America. "Our runners didn't finish in the top slots, but they proved to their client—and the community they support—that they're not there to give up, and that's something that carries over into their careers, their personal lives, and their dedication to those they protect."
About Andrews International, LLC
Andrews International, LLC headquartered in Los Angeles, California, is a full service provider of security and risk mitigation services with operations throughout the United States and internationally. The company offers uniformed security, consulting and investigative services, personal protection, special event security, training, alarm monitoring and response, and disaster emergency response services. For more information, please visit the Andrews International website at http://www.andrewsinternational.com.
###