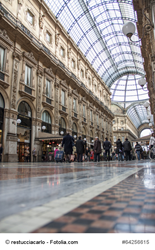 Somerville, MA (PRWEB) July 15, 2014
The larger train stations in Italy are well-equipped to handle passengers needs with an array of amenities including pharmacies, banks, fitness centers, WIFI access and more. And now a free app called Around Station offers information on places to eat, how to get to the Metro or ticket office, and how to navigate the station in general. ItaliaRail provides the scoop on the big three:
Roma Termini, Rome
Roma Termini, the main train station in Rome, is the transportation hub of the city, the largest train station in Italy, and the second largest train station in Europe. It is here that the main Metro (subway) lines converge, trains leave and arrive from destinations within Italy and other countries in Europe, and the Leonardo Express train runs to and from the airport. With about 480,000 people buzzing through on any given day, it's a busy place. The Termini boasts over 100 retail shops with everything from a pharmacy, to a post office, to a large bookstore (that sells books in English), and even a health club. If time permits, Bar Fondi, on Via Milazzo just a couple of blocks from the Termini, boasts some of the best espresso and cappuccino in Rome, not to mention delicious pastries and cakes.
Interesting factoid: On December 23rd 2006, in an official ceremony, Termini Station was dedicated to Pope John Paul II.
Milano Centrale, Milan
Italy's second largest train station is truly a reflection of the city it services, with gorgeous high-end boutiques for the fashion-minded and high-tech amenities for business travelers. Its majestic architecture and many sculptures make it a destination in and of itself. Online reviews consistently report it is one of the most beautiful and efficient train stations in Europe. Travelers need not leave the station to find an array of shoes and apparel shops from internationally well-known brands such as Zara and Mango to Italian-made product stores like Carpisa and Geox. Milano Centrale even has an in-house chapel, for quiet reflection time. The exclusive Salmoiraghi & Viganò Italian eyewear line actually has an outlet store in the station. Head there for special deals on stylish and impeccably made glasses and sunglasses.
Interesting factoid: The main arch of the station spans 72 meters, or about 236 feet, the largest ever constructed in Italy.
Torino Porta Nuova, Turin
Italy's third largest station sees about 70 million visitors per year and is located right in the heart of Turin's elegant and historic city center. Amenities include over 50 retail shops, plenty of choices for food and drink, banks, pharmacies and more. The Feltrinelli Bookstore offers a huge selection of books and music with Italian authors often stopping by for readings and signings. La Locanda Del Sorriso, a restaurant just a few blocks from the station on Via Saluzzo, continuously gets rave reviews for its great service, family friendly atmosphere and outstanding Italian fare - worth a stop for lunch or dinner before departure or upon arrival.
Interesting factoid: A young Enzo Ferrari hung out at the Bar Del Nord, at Porta Nuova station, where he met and mingled with those connected to automobiles and racing, circa 1918-1919.
About ItaliaRail:
ItaliaRail are the experts on Italy train tickets and passes. In cooperation with Trenitalia, Italy's only national railway, ItaliaRail provides a direct connection to Trenitalia's reservation system allowing rail travelers access to the most routes at the best prices. Travelers are able to book in multiple currencies, and knowledgeable customer service agents are available to answer questions and give advice on train travel throughout Italy. ItaliaRail was launched in 2005 and is a division of International Rail, LLC.