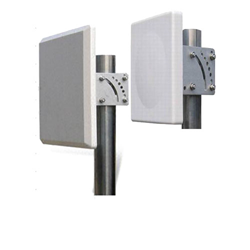 (PRWEB) July 15, 2014
The new patch antenna collection from ZDA Communications has been released recently, and these products are now available at ZDA's official website. All the Omni Directional Antennas from ZDA Communications are at reasonable prices.
According to the CEO of the business, all these patch antennas are high performance directional antennas and they are suitable for indoor and outdoor applications in the 900 MHz, 1.9 GHz, 2.4GHz, 3.65 GHz, or 5GHz band. The internal weatherproof equipment bay provides an enclosed space to mount radios, amplifiers, and other electronic equipment directly behind the panel antenna.
Moreover, the panel enclosure comes with a weatherproof CAT5/CAT6 external quick connection, which allows a rapid installation and easy, quick servicing. The antenna, with the internal connections made prior to deployment, is mounted at the site reducing deployment time.
"Our patch antennas are very popular in the market, and they are the favorite of antenna designers for the versatility and advantages of planar profile, ease of fabrication, compatibility with integrated circuit technology, and conformability with a shaped surface. We have already provided thousands of clients worldwide with customized patch antennas," the CEO says.
"I've used another brand of patch antennas for a couple of years. Recently, I needed a second antenna and bought this one from ZDA Communications. The new one is cheaper, and claims a slightly better gain. Thank you very much!" a customer comments.
About ZDA Communications
ZDA Communications US LLC is an ISO9001 manufacturer and supplier of all kinds of wireless antennas, including Yagi antennas, Parabolic dish antennas, cell tower sector antennas, External wireless antennas, mobile antennas, Broadband and Ultra Wide Band Antennas. For more details of ZDA Communication and its products, please visit http://www.zdacomm.com/wireless-antenna-category-by-type/omni-directional-antenna/.