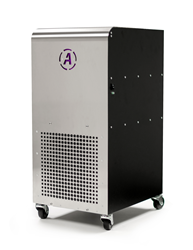 Dayton, Ohio (PRWEB) July 15, 2014
Unlike other air units which have simple ultraviolet lamps, the Aero One uses a patent-pending reactor system incorporating hundreds of solid lenses to actively eliminate organisms in a fast-moving air stream. No other system is able to do this.
The Aerobiotix technology has been proven in testing by independent laboratories, and has been adopted by several major hospital centers. The Aero One 's compact, mobile design lets you move it to any space inside your home, and it will treat areas up to 800 square feet.
Aero One can be seen at its new website http://www.aero1uv.com and on Amazon.com.
Aerobiotix Inc. is a company committed to changing how we think about the air we breathe. Based in Ohio, with products made in the USA, the company designs and develops cutting edge technologies for comprehensive air treatment in home, office, commercial and healthcare settings.