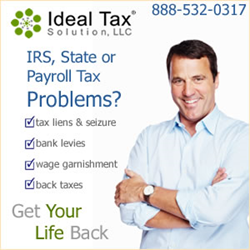 Costa Mesa, CA (PRWEB) July 14, 2014
The IRS reported record tax revenue for this fiscal year, and at the close of May, the government reported that they had received tax revenue in the amount $1.935 trillion dollars. During the month of May alone, the IRS took in a whopping $200 billion in tax receipts, yet ran a deficit of $129.971 billion. The Office of Management and Budget has estimated that the government will take in just over $3 trillion dollars for the fiscal year ending in September.
Though a portion of this money may come from residual tax payments, the majority of the tax burden is being footed by the individual taxpayer. Over $900 billion was received from individual tax returns, and Social Security and other federal payroll taxes made up the majority of the rest. These two IRS revenue streams combined for $1.6 trillion, with corporate tax bringing in only $165 billion over the last eight months.
The current administration has been championing the fact that the deficit has fallen for the past four years. While this is indeed good news and may be technically true, it is not due primarily to the fact that we are spending less but rather due to record tax revenue increases. A full 79 percent of the deficit reduction in 2013 was due to increased tax revenue, and as the IRS describes it "the expiration of certain tax provisions." This is government speak for higher tax rates for individuals and businesses. As tax receipts continue to rise, it is plain to see that the individual taxpayer will continue to be the primary target for filling government coffers.
One of the ways the IRS continues to increase tax revenues is by its increasingly active and aggressive collections policies. The National Taxpayer Advocate is tasked by Congress with determining the 20 most serious problems encountered by taxpayers. The group identified tax reform as the top priority to alleviate stress to individual taxpayers. Recent analysis indicates that taxpayers spend over 6 billion hours per year in order to comply with tax filing requirements. With the myriad of new tax laws, coupled with aggressive collection tactics, it is no wonder that a record number of taxpayers currently find themselves faced with a serious tax debt issue.
Over the past several years the IRS has issued over 5 million tax liens. The yearly average of tax liens issued by the IRS is up a whopping 550% over FY1999. Even in this tough economy, the IRS continues to lien and levy at an even more aggressive rate. The burden to taxpayers is being felt in almost every sector of the economy, and makes it tough for struggling taxpayers to get back on their feet after a serious tax debt problem.
As the government continues to see their aggressive collections efforts result in increased tax revenue and reduced deficits, the chances for tax reform and relief to taxpayer becomes ever less likely. What taxpayers will most likely receive, is increased taxes, more complex tax laws, and an increase in tax collection efforts.
About the company:
Ideal Tax Solution, LLC is located in Costa Mesa, CA, and is a professional collection defense company representing businesses and individuals nationwide, providing tax negotiation and tax resolution services. Their Tax Attorneys, IRS Enrolled Agents, CPA's, and Senior Tax Consultants have over fifty-five years of combined experience working to help American taxpayers resolve their problems with the IRS and State Tax Agencies. For more information on Ideal Tax Solution, please call 1-888-532-0317 or visit online at http://www.idealtaxsolution.com.