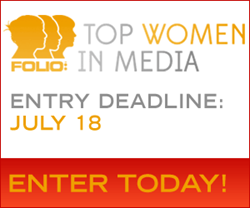 New York, NY (PRWEB) July 14, 2014
The deadline to submit nominations for Folio's Top Women in Media program is this Friday, July 18, 2014 at midnight ET. Folio's Top Women in Media celebrates the most influential women, the ones driving the agenda for the media industry and their companies – women who are innovating in new ways and guiding their businesses into new markets.
Complete Information Regarding Folio's Top Women in Media
The Folio Top Women in Media list is based on several factors, but the top criteria is this: All of the designees have demonstrably moved the needle either in the industry or at their companies, whether through revenue or audience growth, brand extensions, product launches, business transformation, thought leadership or pioneering actions.
Categories include:

Industry leadership: For executives (and women of all ranks) who've had an exceptional impact on the direction of their industry or market in ways that are measurable beyond just their own companies.
Corporate visionaries: Women who've steered their companies into new markets, new opportunities, new audiences, and strong, measurable growth.
Director-level Doers: Women who've successfully executed on a strategy, and transformed their business line or brand.
Entrepreneurs: Women who've launched companies and upended markets and categories.
Mentors: Women who've made an extraordinary effort, and had an extraordinary impact, on the careers of their colleagues.
Rising Stars: Women on the rise, making their mark, even at the early stages of their careers.
The nominee must be employed by a media company, or a digital-only media company, or at an association, or work as a consultant or other services-provider to the industry. To submit a nomination into Folio's Top Women in Media, visit http://www.foliotopwomen.com. The deadline to submit nominations is July 18, 2014, with a final deadline of July 25, 2014.
Contact Folio's Marly Zimmerman at mzimmerman(at)accessintel(dot)com with any questions.
About Folio:
Folio is a multi-channel resource for the magazine and online media industry. Our primary mission is to use digital media, print and events to help media companies solve business challenges. For more information, visit http://www.foliomag.com.