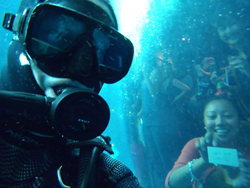 Toledo, OH (PRWEB) July 22, 2014
Ed Conn had a tunnel vision moment during a volunteer dive, watching two green California moray eels jockey for a spot in the perfect hole, when he looked up and noticed 15 school kids, noses pressed against the glass, watching his every move. As a volunteer diver for the California Science Center in Los Angeles, he eagerly anticipated his weekly dives in the temperate water kelp tank.
"Whether it was on the diver-end of a presentation or just cleaning the acrylic window by the dim light of the observation room exit sign on Thursday nights, I had the greatest volunteer job ever," explained Conn. He would miss it dearly as he said goodbye to California and moved to northwest Ohio.
Conn was prepared to satisfy his dive addiction with trips to many of Ohio's quarries, when he read in The Blade that the Toledo Zoo was closing its Aquarium for major renovations, and reopening again on March 27, 2015. He spoke to Jay Hemdal, curator of fish and invertebrates, who excitedly outlined the changes to the Toledo Zoo Aquarium. The interior size of the 1939 historic Works Progress Administration building will stay the same, but water volume will more than triple in size to 178,000 gallons, including a 90,000 gallon Pacific Coral Reef exhibit.
"We want to inspire others to join us in caring for the animals and conserving the natural world," Hemdal said. "This would be achieved by presenting the aquatic life in larger, more naturalistic displays, and by interpreting the animals through more interactive and engaging exhibits."
In addition, this renovation will include updating the life support systems to provide a better environment for the animals.
As a key element to this anchor for the aquatic themed section of the Zoo, volunteer divers, Conn included, will be recruited to support staff in creating a fully engaging and educational experience for the visitors. Divers will perform feeding demonstration dives in the Pacific Coral Reef exhibit speaking to visitors through a full face mask / microphone system. In addition, the volunteers will be surface-tending other divers, assisting in tank refilling, performing cleaning dives in the four largest exhibits, and performing general maintenance and cleaning of the dive lockers and gear.
The Zoo is developing an outline of requirements for the volunteer diver program. Volunteers must meet all Toledo Zoo volunteer requirements, plus be 18+ years old, a PADI open water diver (or equivalent) and have an additional 5 hours of logged open water dives, along with current CPR, First Aid and Oxygen delivery training certifications.
To inquire about joining the Toledo Zoo Volunteer Diver Program, contact Jay Hemdal at jay.hemdal(at)Toledozoo(dot)org.
Bio: Ed worked in the West Coast office for National Geographic for the past 12 years before settling in Northwest Ohio with his wife. He is a certified PADI Divemaster.
About the Toledo Zoo The Toledo Zoo opens at 10 a.m. daily; closing hours vary. It is located on the Anthony Wayne Trail (US 25), four miles south of downtown Toledo. For more information, please visit toledozoo.org or call 419.385.4040.
The Toledo Zoo is committed to inspiring others to join in caring for animals and conserving the natural world. As part of that mission, the Zoo is accredited by the Association of Zoos and Aquariums (AZA), a leader in global wildlife conservation. AZA member institutions are dedicated to providing excellent care for animals, a great experience for visitors and a better future for all living things.
The Toledo Zoo was voted #1 in USA TODAY'S 10Best Reader's Choice Awards & Double national honors from FamilyFun magazine!