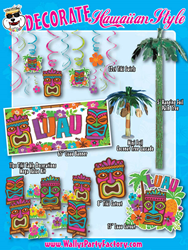 A luau theme can be used for many different occasions, including summer pool parties, birthday celebrations, graduations, or even an office party.
Ennis, TX (PRWEB) July 15, 2014
Luau parties are a great way to bring Hawaii's beautiful colors and Tiki décor to your own backyard. With the scorching heat that is here to stay, a Luau party is the perfect way to cool off this summer. A luau theme can be used for many different occasions, including summer pool parties, birthday celebrations, graduations, or even an office party.
Set the Scene for Your Luau Party
Make your luau party come to life by hanging or placing Tiki décor around your party destination! You can display Tikis around your back porch or hang from palm trees. If you don't have palm trees, then be sure to incorporate an inflatable palm tree cooler that will give you shade and keep your drinks cool! To give your backyard trees a tropical touch, hang inflatable parrots, monkeys and surround them with inflatable flamingos. Set the backdrop with a Tiki bar, or a tropical paradise theme scene setter. And, for when the sun goes down, add Luau-themed lights and Tiki torches for ambiance lighting.
There's a Party Behind Every Wearable
What's a Luau without dressing Hawaiian style? Invite your guests to come in their favorite luau costumes such as grass skirts, coconut bras, or Hawaiian shirts. For your guests that come sans luau outfits, set out Hawaiian flower hair clips, beachcomber hats, sunglasses, and grass hula skirts. When your guests arrive, don't forget to greet them with Hawaiian leis! Aloha, my friends!
Hula into Hawaiian Fun
Liven up your celebration with Hawaiian luau party games everyone will enjoy. See how low your guests can go with a bamboo limbo game. If some of your guests are unable to limbo, have another beach party game available like a Tiki bean bag toss game. This will be less strenuous for guests that are not as flexible. To add a little entertainment to your luau activities, have a hula dance-off to see which guest is the best Hawaiian dancer.
Party favors
As your guests leave, give them something to remember the night. Luau themed party favors such as key chains, raffia fans, maracas, parasols, or beach balls make great keepsakes for your guests. Be sure to send them off with a friendly "Aloha"!
Be inspired with Wally's Party Factory extensive selection of party supplies, costumes and balloons for all occasions and themes including a large Luau party department featuring Hawaiian and Tropical themes, banners, garland, décor, party favors, wearables and accessories.
Wally's Party Factory has a company-wide commitment of appreciation for those that serve our community and nation by offering a 10% in-store discount to educators and members of the armed forces.
ABOUT WALLY'S PARTY FACTORY
Wally's Party Factory, based in Ennis, TX, is the nation's largest privately-held, family owned, multi-channel party supply and Halloween costume retailer. Wally's, which also operates in some locations as Card & Party Factory, Christmas Discount Warehouse (temporary Christmas stores) and Wicked Wally's Halloween Costumes (temporary Halloween stores) began over two decades ago and has grown steadily into one of the nation's best party-supply and Halloween costume merchants. Wally's is devoted to helping its customers celebrate the most important events in their lives by providing unrivaled customer service, offering an excellent selection of the best products, and pricing those products competitively. Wally's also gives back to local communities, each of which everyone at the company treats as home.
The company's 28 party stores are located in Texas and Oklahoma. To find a location near you, visit Wally's website at http://www.WallysPartyFactory.com. Here you can find more information regarding products, store hours, upcoming events, and unique party ideas.