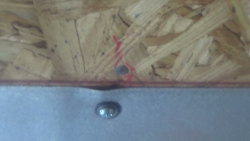 The reliability of this product under such extreme conditions is exactly what it was designed to do.
Carrollton, TX (PRWEB) July 28, 2014
Fas-Fit Trim Supply, LLC had their Galvalock™ panel wind and strength tested at the Construction Consulting Laboratory in Carrollton TX on July 10, 2014. The panel did an amazing job. There was a slight pucker at the fasteners after 178mph sustained force but no panel or roof deck movement. After 217mph sustained force, there was no change whatsoever. Texas Department of Insurance requires a rating of at least 130 mph. This panel surpassed that requirement and then some. The facility was not able to test higher than 217mph but that is well over a category 5 storm. The reliability of this product under such extreme conditions is exactly what it was designed to do. There is nothing out there like it.
It's storm season again and the weather is ever present on people's mind. Fas-Fit Trim Supply is focused on mitigating weather-related damage from strong wind storms. Galvalock,™ a patented panel , will add strength to any new or existing roof deck as well as prevent rotting at the soffit and fascia area of the structure. This 24ga steel soffit and fascia panel locks down a roof in two critical places: the rafters and the sidewalls. Using this very unique design will add needed strength to the roof and provide that extra protection to weather abused structures. This one piece design encapsulates the roof edge and makes it virtually impossible for wind to get under the deck and lift it off the structure.
The Galvalock™ panels are manufactured to exacting standards and are shaped to fit the profile of any structure. The panels have a roof flange that extends up to six inches over the decking and is covered by the roofing material – any roofing material. The panel can be painted to match any color. Galvalock™ is rot and rodent resistant and maintenance free for at least 30 years. The process of fastening to the rafters and the sidewalls is what gives this product such a strong bond. Builders will appreciate the one-piece design as it provides a quick and easy install that requires half the time and labor of a wood based soffit and fascia.
The traditional soffit and fascia is high maintenance and in way to many cases, has been the culprit for unwanted access to the attic. This is a costly expense that Galvalock™ can eliminate. Galvalock™ panels have a micro vent in the soffit that is part of the manufacturing process, not added after the fact. This eliminates the possibility of those vents being extracted due to strong wind events subjecting homes or businesses to the elements and the rodents.
Galvalock™ is made from recycled materials and is recyclable at the end of its very long life (of up to 100 years). Testing shows 30 years (so far) of rust free results in all but the most extreme marine environments.
Galvalock will be an asset to people in every area.
*For people living in an area that experiences strong winds from storms on a regular basis – this panel is a solution.
*For people living in a marine environment where rotting is accelerated – this panel is a solution.
*For people living in an area where rodents or bats have a tendency to access the roof through soffit vents – this panel is a solution.