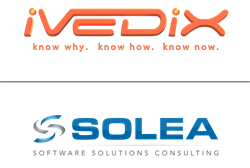 The ability to provide the quick integrations and fast value to our clients with miVEDiX is a natural extension of our service offerings.
Pittsford, New York (PRWEB) July 15, 2014
iVEDiX, a premier business intelligence and mobile analytics solutions provider based in Pittsford, NY, is announcing a new partnership with Solea Software Solutions. As a provider of strategically-aligned business intelligence and data warehouse solutions, Solea has partnered with iVEDiX to broaden the implementation reach of miVEDiX, iVEDiX's mobile analytics platform. In return, Solea adds miVEDiX to their array of products and services on offer to customers and clients -- specifically, those who need a powerful mobile BI solution.
Ameet Bhattacharya, iVEDiX's Senior VP of Channel Enablement, explains that, "Solea has a pretty phenomenal track record for implementation, and they really have BI and data warehousing in their DNA. They are a great partner because they get what miVEDiX is all about. They understand the value of data discovery. Solea is getting a mobile platform that is unlike anything else, something that they can share with potential customers and clients. It is a clear win-win for both companies."
The partnership draws on the BI expertise of both organizations, as Solea Software Solutions utilizes agile methodologies to deliver open source portal and BI solutions through the use of "virtual teams." In the past, Solea has provided data warehousing and business intelligence expertise to organizations such as the National Oceanic and Atmospheric Administration's Office of Response and Recovery, specifically during clean-up efforts for the 2010 Deepwater Horizon Oil Spill.
Michael Jackson, Managing Partner of Solea, stated in reference to the partnership: "Business clients begin realizing exponential value from their BI investments when they are able to go beyond the reports and dashboards fed to them, and instead are provided the power to find their own insights and stories in their data. The miVEDiX mobile-first analytics platform quickly and efficiently puts that power in the hands of the business user, allowing them to visualize and find the stories in their data in many ways, anytime and from anywhere. The ability to provide the quick integrations and fast value to our clients with miVEDiX is a natural extension of our service offerings, and a very strategic move as we broaden our analytic and visualization capabilities."
About iVEDiX
iVEDiX offers extensive BI solution consulting across a wide variety of industries, including Healthcare, Retail, and Business Services. miVEDiX, iVEDiX's flagship mobile analytics platform, gives users access to their data from their mobile device, and combines rich visualizations with sophisticated interface options and real-time updates. iVEDiX is headquartered in Pittsford, New York, with offices in Boston, Bangalore, and Dubai. http://www.ivedix.com
About Solea Software Solutions
Solea provides Business Intelligence, Analytics, and Portal consulting services. Solea delivers unique integrations of open source solutions that provide positive user experiences and accelerate user adoption and ROI. The company specializes in Pentaho CE and EE solutions with a focus on clients in Government, Science, Environmental, Disaster Response and Healthcare sectors. http://www.soleasolutions.com/