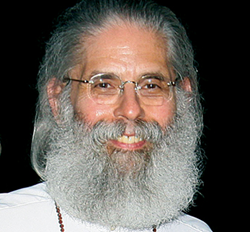 "The genes we're born with do not condemn us to illness. The tools of detachment, discrimination and will power that we develop in meditation can help us make lifestyle choices that gift us health and well being." - Leonard Perlmutter
Averill Park, NY (PRWEB) July 15, 2014
How meditation can alter our genetic code to provide good health and wellness will be among the topics discussed at The American Meditation Institute's (AMI) sixth annual mind/body medicine CME conference on meditation and yoga November 5-9, 2014 at the Cranwell Resort and Spa in Lenox, Massachusetts. Entitled "American Meditation: The Heart and Science of Yoga," this comprehensive physician training is accredited through the Albany Medical College Office of Continuing Medical Education.
If there's one mental practice that has stood the test of time and rigorous laboratory testing, it's meditation. According to a recent article published in the Psychoneuroendocrinology, journal, a new clinical study reports that mindfulness meditation training can lead to epigenetic alterations of the genome. These changes down-regulate genes previously implicated in inflammation and accelerate cortisol recovery time from social stress. "To the best of our knowledge, this is the first paper that shows rapid alterations in gene expression within subjects associated with mindfulness meditation practice," says study author Richard J. Davidson, founder of the Center for Investigating Healthy Minds and Professor of Psychology and Psychiatry at the University of Wisconsin-Madison.
As part of AMI's "Yoga of Medicine" program, this conference is dedicated to providing quality, comprehensive and evidence-based education to physicians and other health care providers. This CME course will offer a broad curriculum of Yoga Science as mind/body medicine to ward off stressful burnout for physicians while providing tools to enhance self-care for patients. Topics include mantra meditation, diaphragmatic breathing, easy-gentle yoga, Yoga psychology, chakra system therapy, mind function optimization, epigenomics, ayurveda, nutrition, functional medicine, and lymph system detoxification.
Each faculty member at this year's CME conference is committed to the advancement and training of Yoga Science as holistic mind/body medicine. Presenters will include Leonard Perlmutter, AMI founder, meditational therapist and award-winning author; Mark Pettus MD, Director of Medical Education and Population Health at Berkshire Health Systems; Susan Lord MD, faculty member and holistic health consultant for Kripalu Center for Yoga and Health; Kathie Swift MS RDN LDN, leading educator, practitioner and author in the field of integrative nutrition; Beth Netter MD MT, holistic physician and acupuncturist, Albany, NY; Rosy Mann BAMS, Ayurvedic practitioner specializing in women's health and senior faculty member of Kripalu School of Ayurveda; Jenness Cortez Perlmutter, co-founder and faculty member of The American Meditation Institute.
Since 1995, Mr. Perlmutter has lectured extensively on the health benefits of meditation and yoga as mind/body medicine, including talks at the M.D. Anderson Cancer Center, Albany Medical Center, Stratton VA Medical Center, Berkshire Medical Center, University of Colorado Medical School, University of Wisconsin School of Nursing, Washington University Medical School, the United States Military Academy at West Point, and the Commonwealth Club of California. He also served on a distinguished New York Times panel of Yoga experts with Dr. Dean Ornish. Noted physicians Mehmet Oz (Dr. Oz), Dean Ornish, Bernie Siegel and Larry Dossey have endorsed Mr. Perlmutter's treatise on Yoga Science, which serves as the primary curriculum for the course.
According to AMI founder Leonard Perlmutter, "The more consistently the therapeutic practices of meditation and yoga are incorporated into daily lives of physicians and patients, most symptoms of stress related burnout and chronic complex diseases can be diminished or eliminated." Joel M. Kremer, MD, who is Board Certified in Internal Medicine and Rheumatology in Albany, New York and a recent AMI conference participant, is in full agreement. "This teaching has been an enormous benefit in my personal and professional life. I have less stress, more focus, and am able to serve my patients with greater clarity. It becomes surprisingly easy now to recognize the many clinical situations in which patients with somatic manifestations of 'dis-ease' could greatly benefit from Yoga Science."
-30-
About the American Meditation Institute
The American Meditation Institute is a 501(c)3 non-profit educational organization devoted to the teaching and practice of Yoga Science, meditation and its allied disciplines as mind/body medicine. In its holistic approach to wellness, AMI combines the healing arts of the East with the practicality of modern Western science. The American Meditation Institute offers a wide variety of classes, retreats, and teacher training programs. AMI also publishes "Transformation" a bi-monthly journal of meditation as holistic mind/body medicine. Call 800.234.5115 for a mail or email subscription.
Media Contact:
Mary Helen Holloway
60 Garner Road, Averill Park, NY 12018
Tel: 800-234-5115
Fax: 518-674-8714