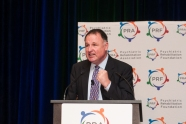 McLean, VA (PRWEB) July 15, 2014
Over five hundred members of the psychiatric rehabilitation community came together to participate in exceptional education sessions and strengthen their professional and personal connections at the Recovery Workforce Summit: 2014 PRA Annual Conference in Baltimore, Maryland June 22-25. The Summit, which drew world-class speakers and featured outstanding special events, was an extraordinary experience for all in attendance. The Psychiatric Rehabilitation Association's (PRA) annual Summit offers networking opportunities and introductory to high-level educational sessions for the entire psychiatric rehabilitation workforce; including agency executives, educators and researchers, practitioners and peer support providers with a specific focus on best practices, evidence-based practice, integrated healthcare, wellness, supported housing, and supported employment.
"I am very proud that the Recovery Workforce Summit was such an outstanding success in serving as our annual gathering of psychiatric rehabilitation professions from around the world," said Dori S. Hutchinson, ScD, CPRP, PRA Board Chair. "Professionals from all over the globe committed to promoting recovery through service, education, research and policy convened together in the beautiful Baltimore Inner Harbor to learn, network, and engage with peers. I came home with a deeper understanding of the importance of advocacy and a stronger commitment to the development of best practices in psychiatric rehabilitation for children/youth with mental health needs. It was wonderful to connect, socialize, and collaborate with peers who share my values in helping people with mental health challenges recover!"
Following a successful 2013 conference, many attendees noted that the 2014 Summit exceeded expectations. The psychiatric rehabilitation community gathered to strengthen the profession of psychiatric rehabilitation through education, training, promotion of best practices, sharing of the latest research and information, and advocated for mental health issues and policies. It was an inspiring experience that included an emotional keynote from Virginia Senator Creigh Deeds urging the community to advocate for more comprehensive mental health services, including peer support and psychiatric rehabilitation; a dramatic and compelling research presentation on the psychiatric rehabilitation needs of youth and children with mental health challenges by Dr. Linda Teplin; and a fabulous evening of rock guitar with Wayne Kramer who has transformed his own struggles into activism and recovery for people who are incarcerated.
"Growing and training the recovery workforce was in full swing at the 2014 Recovery Workforce Summit," said Veronica Carey, PhD, MHS, CPRP, Chair, PRA Academy of Psychiatric Rehabilitation and Recovery. "I was so proud to assist in the successful education of administrators, supervisors, persons with lived experience, policy makers, family members, and academicians. It was a wonderland of exchanges, formats, and information addressing current psychiatric rehabilitation needs and future psychiatric rehabilitation planning. Seeing familiar faces and making new alliances always motivates me to do what I do for the Academy. To say I am looking forward to the 2015 Summit in Pennsylvania is an understatement!"
After a highly successful 2014 Recovery Workforce Summit, PRA is looking forward to further engaging the psychiatric rehabilitation community at the 2015 Recovery Workforce Summit, June 1-4, 2015 in Philadelphia, PA.
About the Psychiatric Rehabilitation Association (PRA): As the nonprofit organization focused on growing and training the recovery workforce, the Psychiatric Rehabilitation Association, is the preeminent association for the development, support, and dissemination of information about the practice of psychiatric rehabilitation and recovery. PRA believes that the practice of psychiatric rehabilitation leads to recovery, and thus is committed to the growth of psychiatric rehabilitation in both quantity and quality, and to the universal availability of state-of-the-art psychiatric rehabilitation services for all individuals with mental illness who seek such services. For more information, visit http://www.psychrehabassociation.org.