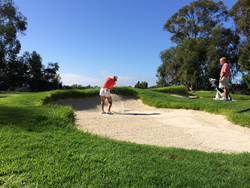 Palos Verdes Estates, CA (PRWEB) July 15, 2014
Palos Verdes Golf Club hosted the Women's Amateur U.S. Open qualifier on July 7, attracting over 96 players from around the world. Ten will advance to the championship held August 4-10 at Nassau Country Club in Glen Cove, New York.
The United States Golf Association (USGA) received a record 1,209 entries to compete for the title. This is the first year the USGA has opened up play to international competitors, making it one of the most popular events in international women's golf. Competitors must have a USGA Handicap Index below 5.4.
The July 7 event was one of 19 national qualifying rounds, and participants enjoyed a true challenge at Palos Verdes Golf Club's course.
"The course is great test of golf skills with strategic design and well-placed bunkers that place a premium on accuracy and shot making," commented Jim Gormley, Head Golf Manager at Palos Verdes Golf Club. "The group played extraordinary well, and it was an honor to host such a competitive and talented group."
Palos Verdes Golf Club has been the scene of many national tournaments, including the annual Northrop Grumman Regional Challenge.
ABOUT THE USGA
The USGA is recognized internationally for providing governance for the game and maintaining the USGA Handicap and Course Rating Systems. The USGA conducts more than 13 national championships each season, including the U.S. Open, U.S. Women's Open, and U.S. Senior Open. For more information about the USGA, please visit http://www.usga.org.
ABOUT PALOS VERDES GOLF CLUB
Located atop the Palos Verdes Peninsula in Southern California, members of Palos Verdes Golf Club enjoy a spectacular setting with panoramic views of the ocean, cityscape, and golf course. The classic course, designed by William P. Bell and George Thomas consulting, is noted for the strategic use of the natural landscape. The course's $1.3 million renovation last summer provided new bunkers, additional chipping areas and new back tees, and optimized views with select tree removals. The club's membership is primarily designated for residents of Palos Verdes Estates, but has select openings for those living outside the city. Members and non-members may also host meetings, parties, and weddings in the club's selection of banquet and event spaces. For more information about Palos Verdes Golf Club, please visit http://www.pvgc.com.