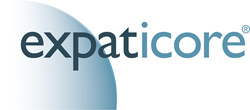 Expaticore still retains the core characteristics that have made our firm the successful company we are after 12 years
Rockville Centre, NY (PRWEB) July 15, 2014
Expaticore Services LLC ("Expaticore"), a leading provider of global payroll and mobility solutions have announced today the launch of their new website, and company rebrand campaign. The Expaticore website will include its new corporate brand, and introduce the new logo and color scheme. The website and rebranding efforts are part of a series of marketing initiatives that will reposition and communicate Expaticore's direction in the market.
"Expaticore's website and fresh branding will draw attention to our super-focus on the 3 areas where our Clients keep turning to us for support – global payroll, including expatriate payroll, assignment management services, and international HR consulting. They will also continue to reinforce our commitment to superior Client service that we are well known for," said David Leboff, President of Expaticore. "The new logo itself maintains a strong relationship with its predecessors, especially as it retains Expaticore's highly-recognized globe resting on a blue-based color scheme. In this way it will remind everyone that while we are looking forward and redesigning for the future, Expaticore still retains the core characteristics that have made our firm the successful company we are after 12 years."
The new website integrates social media more effectively than the prior one and allows for easier direct contact and interaction with Expaticore. The branding initiative introduces a fresher look, including the addition of green to their brand colors, creating a brighter, and more complementary color blend. The website and rebranding processes took close to a year to complete, and included the input of the entire staff.
About Expaticore
Established in 2002 to support clients that manage global workforces and transfer employees worldwide, Expaticore has grown into a leading provider of international payroll and mobility solutions. The Company offers its international payroll operations, payroll compliance, international funds management, global mobility program design and management, and other global HR consulting services to organizations of all sizes. Expaticore's commitments to the highest standard of customer service in the industry, its certified, secure data-management environment, and its dedication to the careful management of client risk through diligence, compliance and control are valued dimensions of every solution implemented for the Company's clients. For more information, please visit http://www.expaticore.com.