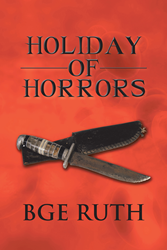 'I wanted to write an book that's both incredibly entertaining and emotionally deep. I highlight the emotion of grief, which is a draining process with swings that run from love to hate, sadness, guilt, and depression'
Pittsburgh (PRWEB) July 16, 2014
The mother-daughter relationship is a special bond that intertwines past, present and future. Author BGE Ruth has highlighted this connection in her newest thriller.
"Holiday of Horrors" is about a college student, Christy, who is struggling with her mother's recent passing from breast cancer. While on a trip at a national park, she encounters a serial killer who is roaming the park and learns that the killer had unique contact with her mother before Christy was born.
"I wanted to write an book that's both incredibly entertaining and emotionally deep," Ruth said. "I highlight the emotion of grief, which is a draining process with swings that run from love to hate, sadness, guilt, and depression."
"Holiday of Horrors" takes place in present time in the Rocky Mountain National Park and is intended for readers 15 and up.
"Holiday of Horrors"
By BGE Ruth
Price: $11.52
ISBN: 978-1-4669-9031-9
Available at: Amazon, Trafford and Barnes and Noble online bookstores
About the Author
The writer is a retired registered nurse who worked in many areas of nursing, from pediatrics to adult medical oncology. She has always wanted to write and loves to read, so after retiring, she enrolled in the Institute of Children's Literature and graduated on August 17, 2009. This is her first adult novel.
###