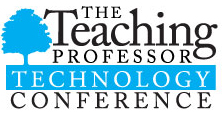 The annual conference brings together educators from colleges and universities throughout the U.S. and Canada.
Madison, Wis. (PRWEB) July 15, 2014
Magna Publications is pleased to announce the full lineup of speakers for the 2014 Teaching Professor Technology Conference, as well as the addition of a two-day extended pre-conference workshop on blended learning course design that was just added to the program.
Coming to Denver, Oct. 9-12, The Teaching Professor Technology Conference provides a thought-provoking and stimulating conference for educators of all disciplines and experience levels to share practical ideas and best practices for using technology to advance teaching and learning in higher education. Registration is now open.
The annual conference brings together approximately 750 educators from colleges and universities throughout the United States and Canada. The conference features five preconference workshops, more than 70 concurrent sessions, and 20 poster sessions. It also includes plenary presentations by three highly respected educators:

Alec Couros, Ph.D., associate professor, University of Regina, Canada
Plenary Title: Embracing Social Networks for Teaching and Learning
Timothy D. Wilson, Ph.D., associate professor, University of Western Ontario, Canada
Plenary Title: Making Sense of the Neuroscience behind Learning
Barbi Honeycutt, Ph.D., director of Graduate Professional Development and Teaching Programs at North Carolina State University and founder of Flip It Consulting
Plenary Title: Game On! Four Ways Games Can Enhance the Flipped Classroom
The conference program consists of 45-minute and 75-minute concurrent sessions related to these key topic areas:

Blended or Flipped Courses
Online Courses
Technology in Face-to-Face Courses
Social Media, Mobile Learning, and Apps
The high-quality roster of speakers is a combination of a handful of top presenters from the 2013 Teaching Professor Technology Conference who were invited back, and a host of new presenters selected by the advisory board following a blind review of proposals.
See the full slate of concurrent sessions:
Learn more about the special two-day preconference workshop titled Blended Course Design: A Boot Camp for Instructors:
About Magna Publications:
Founded in 1972, Magna Publications is dedicated to providing high-quality, research-based professional development resources to the higher education community. The company's growing portfolio of newsletters, online seminars, online courses, and in-person events represent some of the most trusted names in higher education, including: The Teaching Professor, Online Classroom, Academic Leader, Distance Education Report, Faculty Focus, and the Title IX Compliance Institute. The company is based in Madison, Wis. Learn more at http://www.magnapubs.com/.
About The Teaching Professor:
Magna Publications founded The Teaching Professor in 1987. The goal was simple: create a newsletter that helps college faculty improve their teaching, share best practices, and stay current on the latest pedagogical challenges and trends. Today The Teaching Professor product line includes the newsletter, conferences, workshops, and a blog — all dedicated to the best strategies supported by the latest research for effective teaching in the college classroom. Learn more at http://www.teachingprofessor.com/.