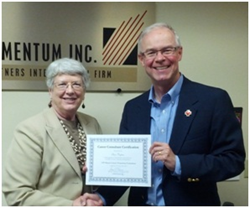 Chapel Hill, NC (PRWEB) July 15, 2014
Career Partners International, one of the world's most successful providers of outplacement, executive coaching and other talent management solutions, recently recognized two Madison area career consultants for their professional achievement and knowledge in the field of career transition.
Former owner of Career Momentum/Career Partners International – Madison, Clara Hurd Nydam earned her certification as a Master Career Transition Consultant. Providing career consulting, resume writing, and LinkedIn networking advice to more than 3,000 area job seekers over the past 20 years, Nydam continues to provide career transition services and leadership to the consulting team in the Career Partners International's Madison and Milwaukee offices.
Mo Afshar earned his certification as a Career Partners International Senior Career Transition Consultant. Afshar joined the Madison office of Career Partners International in 2013 and continually receives top ratings from every career transition participant he serves. Prior to joining the Career Partners International team, Afshar worked as a talent management and organizational development consultant for major firms in Chicago, Dallas and internationally.
In addition to achieving the highest ratings on participant feedback, both consultants demonstrated mastery of the career transition knowledge necessary to successfully assist clients and program participants.
"Our goal is to bring value to the companies that hire us to provide outplacement services and that means helping their displaced employees achieve their career objectives," said Cory Erickson, President and CEO of Career Momentum, the Madison office of Career Partners International. "Surveys of outplacement participants indicate that coaching is the most valued aspect of outplacement programs. Clara and Mo provide the kind of the personal guidance that's needed to help individuals achieve success in their transition."
Career Partners International provides the most accessible and experienced consultants in the industry who focus directly on the needs of participants and clients. The Brazil office of Career Partners International, Lens & Minarelli, was recently named one of the "25 Most Admired HR Providers in 2014" as well as the "Best Ranked Company" in the Outplacement category by Management & HR Magazine. The publication, founded in 2007, produces the "100 Best HR Suppliers" survey annually.
"The personal guidance provided by certified career consultants is the most valued and impactful aspect of our services," shared David P. Hemmer, President and CEO of Career Partners International. "Since our inception in 1987, we've expanded to become one of the world's largest and most successful providers of these services as a result of our resolute focus on the needs of clients and participants. Clara and Mo are prime examples of the successes our career consultants bring to those in transition."
Clients and participants that utilize Career Partners International services report extremely high levels of satisfaction. A recent survey of outplacement participants found that 98.8% rank their experiences as having exceeded or met expectations. Additionally, Career Partners International received an exceptionally outstanding Net Promoter Score of 70. The firm recently adopted the Net Promoter approach to gauge the loyalty of its participants, asking how likely they are to recommend the services of Career Partners International to others.
About Career Partners International
Established in 1987, Career Partners International is one of the world's largest and most successful global providers of talent management solutions. Organizations of all sizes and industries turn to Career Partners International to successfully assess, engage, develop and transition talent using the expertise of over 1600 highly experienced professionals in the areas of assessment, executive coaching, leader development and outplacement. With more than 220 offices in over 45 countries around the world, Career Partners International assures that its clients have local experts with global reach in talent development, career management, executive coaching, outplacement and career transition services. Additional information can be found by visiting http://www.cpiworld.com.
About Career Momentum
Career Momentum Inc. is celebrating 20 years of service to the Southern Wisconsin marketplace in 2014. Based in Madison, WI with a branch office in Milwaukee, our vision "Focused on You, Guiding You Forward" describes the passion with which we help corporate clients worldwide to attract, retain, develop and transition their most critical asset, human capital. We also work with individuals to assist them in identifying and securing work that is a best fit for them. Career Momentum has been an equity owner of Career Partners International since 2004. Additional information can be found by visiting http://www.careermomentum.com.