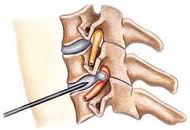 The small incision significantly lowers the infection rate, bleeding and recovery time that a more traditional "open" surgery would have.
West Orange, New Jersey (PRWEB) July 16, 2014
In lieu of an "open" back surgery for relief from facet joint pain, a more refined procedure known as endoscopic rhizotomy has made its way into the forefront.
Problems with the facet joints of the spine contribute to as many as half of the cases of chronic low back pain in the U.S. today. Leading the way, Dr. Kaixuan Liu uses a tiny camera called an endoscope and a small attached device to gradually heat and quiet affected nerves without damaging the surrounding tissue. "Think of the facet joints as hinges that connect the bones of the spine," says Kaixuan Liu, MD, PhD, and President of Atlantic Spine Center. They allow the spine to bend and twist while also keeping it from moving too much, he explains. The facet joints additionally provide conduits for nerves that feed to other parts of our bodies as well. As probably guessed, problems with the facet joints will produce pain in areas other than just the back. If the problem is in the lumbar spine, it will produce pain in the lower back but may also affect the buttocks and thighs. Issue with facet joints in the cervical spine will create pain not only in the neck, but also in the shoulders and upper arms.
When facet disease is diagnosed, a patient will typically be advised to try a series of conservative treatments such as oral medication, activity modification, or steroid injections. But in cases in which the pain is simply not managed well with these efforts, a rhizotomy procedure may be the best solution.
An endoscopic facet rhizotomy generally requires only a 7 mm-long incision, which about the size of a pencil eraser. It's truly a minimally invasive procedure, done with local anesthesia as an outpatient procedure, and producing long-lasting results, Dr. Liu says. "The small incision means it is a very quick area to heal and this significantly lowers any risk of infection or trauma over traditional surgery. Patients go home the same day, and most experience pain relief almost immediately."