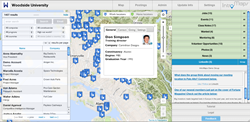 "Being part of the salesforce.com Partner Program not only validates the high level of security IntroMaps has achieved, but also allows us to help our customers liberate their data with a simple integration and an extremely user friendly platform."
San Mateo, CA (PRWEB) July 16, 2014
IntroMaps LLC today announced it has launched IntroMaps on Salesforce1 AppExchange, empowering corporate, nonprofit and higher education customers to engage with their customers, members or alumni in a whole new way. IntroMaps visualizes group data onto a map and allows constituents to access each other through visual search or personalized introductions.
Built on the Salesforce1 Customer Platform, the new social, mobile and cloud customer platform built to transform sales, service and marketing apps, IntroMaps is currently available on the AppExchange at http://www.appexchange.com.
Comments on the News

"Companies are looking to transform the way they connect with customers, partners and employees to thrive in today's connected world," said Ron Huddleston, Senior Vice President, ISV & Channel, salesforce.com. "By leveraging the power of the Salesforce1 Customer Platform, IntroMaps provides customers with the proven social, mobile and connected cloud technologies to accelerate business success."
"Being part of the salesforce.com Partner Program not only validates the high level of security IntroMaps has achieved, but also allows us to help our customers liberate their data with a simple integration and an extremely user friendly platform," said Darren Leva, Founder and CEO, IntroMaps.
Connect in a Whole New Way with Social, Mobile and Connected Cloud Technologies
IntroMaps liberates data by dynamically mapping constituents by geography and providing unique tools to simply communicate, plan and strategize, which increases administrative efficiency. At the same time, constituents are able to access each other visually, while receiving personalized introductions to other constituents. Introductions are based on location and career commonalities, resulting in face-to-face engagement and value to the constituent. This type of value is critical to driving referral business, membership growth and fundraising results. Product key features include:
Unlimited global mapping provides data visualization and meaningful access to group members by proximity
Personalized introductions using Salesforce, LinkedIn or constituent entered data drives real-world engagement
Content posting technology results in automated weekly digest emails for constituents
Map-selection combined with custom search to find highly targeted lists for export to CSV or instant mass email within the application
LinkedIn connections to every profile for updated data
Mobile responsive design with downloadable mobile apps
Customized user profiles allow for custom views based on unique constituent type
All features fully customized to client and unique dataset
Cloud-based access anywhere, no installations, simple integration
About the Salesforce1 AppExchange
The Salesforce1 AppExchange is the world's leading business apps marketplace. With more than 2,200 partner apps and more than 2.4 million customer installs it is the most comprehensive source of social and mobile cloud apps for business. The Salesforce1 Customer Platform is the new social, mobile and cloud customer platform for building next generation apps, powering Salesforce CRM, and more than 3 million custom apps built by customers and partners. Apps built on the Salesforce1 Platform can be easily distributed and marketed through AppExchange.
Salesforce, Salesforce1, AppExchange and others are among the trademarks of salesforce.com, inc.
About IntroMaps
IntroMaps is the leading data visualization and constituent engagement company. Corporations, nonprofits and higher education successfully use IntroMaps to increase administrative efficiency and driving real-world engagement within their organizations. IntroMaps ultimately increases referral business, new memberships or fundraising results while driving better constituent data back to the client. IntroMaps can integrate with any database or size of organization.