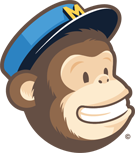 Users can now create, manage, and send all of their email marketing messages from within GiftLogic.
Englewood, FL (PRWEB) July 15, 2014
GiftLogic's team just added even more value to its point-of-sale software: no cost email marketing integration. According to a spokesperson from GiftLogic, "We're super excited about our new MailChimp integration. Users can now create, manage, and send all of their email marketing messages from within GiftLogic. All they need to do outside of GiftLogic is sign up for a MailChimp account. Once they've done that, everything else is handled inside GiftLogic POS."
The spokesperson explained that MailChimp integration is now built into the GiftLogic software, making it easy for retailers to send their customers newsletters, coupons, special announcements, and more -- all without having to log into a third party site and learn a new system.
"By bringing MailChimp into GiftLogic," the spokesperson said. "Users remain in a comfortable environment and have ready access to their existing customer lists. At the same time, they have access to MailChimp's designer templates, SPAM compliance functions, list management tools, email statistics, and more. Everything takes place in GiftLogic including editing the MailChimp template."
MailChimp is a popular email marketing service known for its generous free plan which allows its users to send up to 12,000 emails to up to 2,000 subscribers per month. This particular plan is "free forever" and does not require a credit card or contract. MailChimp also offers more robust plans for those who need more features or have larger subscriber lists.
"For most of our retailers, the free MailChimp plan is more than sufficient," the GiftLogic spokesperson said. "2,000 subscribers is fantastic, and you can't beat the price. All GiftLogic users now have access to our MailChimp integration feature. The feedback we've received since we launched it has been phenomenal."
About GiftLogic
GiftLogic is a division of Merry Mechanization, Inc., (MMI) is known for developing comprehensive, user-friendly software loaded with useful features and supported at the highest level. GiftLogic Point of Sale software includes a robust set of default features such as store and inventory management tools, cash register software, gift cards, gift receipts, layaway, and now, MailChimp integration. GiftLogic can also be extended with add-on software such as QuickBooks integration, consignment, gift registry, time clock, and fingerprint integration.