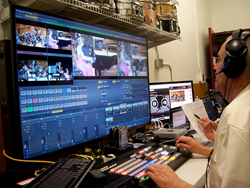 "The Piano-e-Competition certainly shows the remarkable remote performance capabilities of the Disklavier, and highlights how this technology can connect the music world like never before," said Jim Levesque, Yamaha
Fairbanks, Alaska (PRWEB) July 14, 2014
Peter Friis Johansson, a concert pianist from Denmark and Sweden, was named the winner of the Alaska International Piano-e-Competition, held here beginning June 28 through July 12.
Alexey Chernov of Russia was awarded second prize in this year's event. Frank Dupree of Germany earned third prize, Marianna Prjevalskaya of Spain took fourth prize, and Chen Guang of China and Italy won fifth prize.
Established in 2002 as a showcase "where prodigy meets technology," the Piano-e-Competition is considered the most prestigious in the world for pianists under the age of 32.
As in previous years, organizers invited the most gifted young pianists from around the globe to vie for top prizes—more than $60,000 in total. Yamaha Disklavier reproducing pianos are used exclusively for the competition, due to their ability to faithfully record, and then play back performances with each note and nuance delivered precisely as the pianist originally recorded it.
Beginning earlier this year, organizers placed Disklaviers all over the world so that contestants could compete locally by recording their performances on the instrument, along with video. These performances were then sent over the Internet to a central judging location, where a panel of judges critiqued them as they were recreated "live" on a Yamaha DCFX Concert Grand Disklavier, one of the finest instruments ever crafted.
22 outstanding performers representing 13 countries ultimately gathered at the University of Alaska
Fairbanks to compete for more than $60,000 in prizes.
Their video performances (42 in total) can be viewed at http://uaf.edu/piano. Yamaha Disklavier owners throughout the US and around the world enjoyed these performances with an added dimension…the keys and pedals on their own pianos were being played live by the contestant onstage in Alaska, courtesy of Yamaha's exclusive DisklavierTV streaming service.
"We congratulate Peter Friis Johansson on winning first place in the Alaska International Piano-e-Competition along with the other participants, and we're delighted that Yamaha Disklavier technology creates the opportunity for talented musicians to perform and compete remotely from their home countries," said Jim Levesque, marketing manager, Hybrid Pianos, Yamaha Corporation of America. "The Piano-e-Competition certainly shows the remarkable remote performance capabilities of the Disklavier, and highlights how this technology can connect the music world like never before."
The Disklavier technology made quite an impression at this year's Alaska International Piano-e-Competition, as contestants, judges, audience members and members of the press took notice of its stunning performance and re-performance capabilities and sound quality. Reporting on the competition's finals on July 12 at the University of Alaska Fairbanks's Davis Concert Hall, the Fairbanks Daily News-Miner wrote: "Many of the artists, the judges and many in the audience appeared to be enchanted by the high-tech piano, which replayed the performances with all the feeling and soul from the world-class pianists. One of the award-winners even bowed to the piano after it replayed his performance."
As this year's winner, Johansson will perform in New York City and Chicago, and will return to Alaska this fall to play with the Fairbanks Symphony Orchestra in its opening season performance.
For more information about the Disklavier piano line, please visit http://4wrd.it/YAMAHADISKLAVIER.
-END-
About Yamaha
Yamaha Corporation of America (YCA) is one of the largest subsidiaries of Yamaha Corporation, Japan and offers a full line of award-winning musical instruments, sound reinforcement and home entertainment products to the U.S. market. Products include: Yamaha acoustic, digital and hybrid pianos, portable keyboards, guitars, acoustic and electronic drums, band and orchestral instruments, marching percussion products, synthesizers, professional digital and analog audio equipment, Steinberg recording products and Nexo commercial audio products, as well as AV receivers, amplifiers, Blu-ray/CD players, iPod docking systems, home-theater-in-a-box systems and its exclusive line of Digital Sound Projectors. YCA markets innovative, finely crafted technology and entertainment products and musical instruments targeted to the hobbyist, education, worship, professional music, installation and consumer markets.