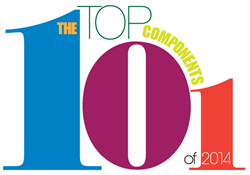 This list, which highlights the electronic industry's most innovative and useful components on the market today, is determined by Electronic Design's audience.
San Jose, CA (PRWEB) July 15, 2014
ADLINK Technology, Inc., a leading global provider of cloud-based services, intelligent gateways, and embedded building blocks for edge devices that enable the Internet of Things (IoT), today announced that Electronic Design magazine has named ADLINK's AMP-204C/AMP-208C advanced DSP-based motion controllers as one of the Top 101 Components of 2014. This list, which highlights the electronic industry's most innovative and useful components on the market today, is determined by Electronic Design's audience.
"We're excited that the AMP-204C/208C has been recognized as innovative by both the industry experts at Electronic Design, as well as by actual users," said Enes Yang, Product Manager at ADLINK Technology. "Our DSP-based motion controller has found use in several industrial applications, including laser engraving and cutting, automated optical inspection, and contouring in semiconductor, display, and conventional manufacturing."
The AMP-204C/AMP-208C DSP-based 4/8-axis advanced DSP-based motion controllers incorporate up-to-date floating-point digital signal processing (DSP) and field-programmable gate array (FPGA) technology, enabling high pulse output and encoder input frequency up to 6.5 MHz and 20 MHz respectively. Leveraging ADLINK's Softmotion™ technology, the AMP-204C/AMP-208C offers comprehensive application-oriented motion functionality to reduce development time while maintaining superior throughput and accuracy. Advanced synchronous motion control performance combines with point-table function integrating multi-dimensional interpolation, such as 3D linear/circular/spiral interpolation with enhanced trajectory velocity planning. The AMP-204C/AMP-208C also supports pulse-width modulation (PWM) control with three different control modes for frequency or duty cycles and offers hardware-based position comparison and trigger output.
"Electronic Design has a proud history of providing valuable information to its engineering audience. The Top 101 Components process begins with our selection and coverage of new products that we receive," explained Nancy Friedrich, Executive Director of Content & User Engagement at Electronic Design. "In addition to looking at which products resonated with our online audience in terms of readership, we invited our audience to participate in a survey to rank the top components in different categories. Clearly, our audience finds these products useful, significant, and innovative."
Products in the Top 101 Components are selected from product introductions over the past 12 months and then ranked based on web traffic. Readers are then surveyed to vote for their favorite overall component, as well as their top choices in several categories, such as accelerometers, connectors, enclosures, sensors, and switches. The complete list of Top 101 Component winners on can be found online.
For more information on ADLINK's AMP-204C/AMP-208C Motion Control products visit http://www.adlinktech.com/.
About ADLINK
ADLINK Technology is enabling the Internet of Things (IoT) with innovative embedded computing solutions for edge devices, intelligent gateways and cloud services. ADLINK's products are application-ready for industrial automation, communications, medical, defense, transportation, and infotainment industries. Our product range includes motherboards, blades, chassis, modules, and systems based on industry standard form factors, as well as an extensive line of test & measurement products and smart touch computers, displays and handhelds that support the global transition to always connected systems. Many products are Extreme Rugged™, supporting extended temperature ranges, shock and vibration.
ADLINK is a Premier Member of the Intel® Internet of Things Solutions Alliance and is active in several standards organizations, including PCI Industrial Computer Manufacturers Group (PICMG), PXI Systems Alliance (PXISA), and Standardization Group for Embedded Technologies (SGeT).
ADLINK is a global company with headquarters in Taiwan and manufacturing in Taiwan and China; R&D and integration in Taiwan, China, the US, and Germany; and an extensive network of worldwide sales and support offices. ADLINK is ISO-9001, ISO-14001, ISO-13485 and TL9000 certified and is publicly traded on the TAIEX Taiwan Stock Exchange (stock code: 6166).