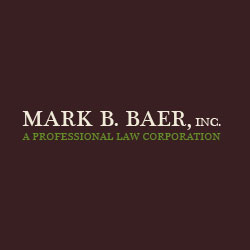 Pasadena, CA (PRWEB) July 14, 2014
On June 19, 2014, Attorney Mark Baer was named the best in the Family Law and Divorce Attorney category for The Best of Los Angeles Award 2014. According to this organization, Mr. Baer "is deeply dedicated to divorce without endless fighting."
Perhaps even more impressive, Mr. Baer has been invited to become a member of The National Advocates Top 100 Lawyers. This achievement means that Mr. Baer has been selected as one of the top 100 lawyers in California* who serve individuals and families in the legal system. The National Advocates runs candidates through a demanding set of requirements before inviting the best attorneys in each legal field to this prestigious membership. Such requirements include reputation among peers, the judiciary and the public; achievements; achieving board certification in their respective practice area, being ranked prominently by nationally recognized rating groups, and maintaining a leadership position in a respected legal association.
Not only is Mr. Baer recognized among his peers as a principal figure in the family law field, but he is regularly called upon by news outlets and media to provide legal analysis. On his Huffington Post blog, Mr. Baer frequently contributes opinions on divorce and family law issues, among other things. His most recent publication addresses the "Hobby Lobby" decision reached by the United States Supreme Court.
His busy itinerary as a legal commentator continues at full throttle, as of June 13, 2014, Mr. Baer has already been invited to speak on several news programs. He has also filmed an appearance for a November episode of the television show "Snapped: Killer Couples".
If you are interested in learning more about Attorney Mark Baer and his Pasadena family law practice, you can visit his website: http://www.markbaeresq.com/.
Mark B. Baer, Inc., a Professional Law Corporation is located in Pasadena, California. A graduate of UCLA and Loyola Law School, Mr. Baer handles all matters related to family law. His practice is dedicated to helping families smoothly transition to a new chapter in life, achieving personalized, positive solutions.
*http://www.thenationaladvocates.org/top-100-trial-lawyers-directory/?last_name=baer&city=&state