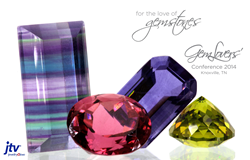 This conference gives our customers an opportunity to learn from the best in the business.
Knoxville, TN (PRWEB) July 15, 2014
Jewelry Television®, the world's largest retailer of loose colored gemstones, joins forces with internationally-renowned gemstone experts to teach customers, enthusiasts and designers about the latest in gemstones and jewelry at JTV's third annual Gem Lovers' Conference. JTV will host the three-day event at its corporate headquarters in Knoxville, Tennessee on July 16, 17 and 18. The Gem Lovers' Conference attracts attendees from across the U.S., the Virgin Islands and more than six different countries.
"This conference gives our customers an opportunity to learn from the best in the business," said JTV's Timothy B. Matthews, President and CEO, Esq., JD, FGA, DGA, GG. "It also gives us a wonderful opportunity to enjoy some time with our JTV family of customers."
Attendees will gain valuable insight and enlightenment into the incredible world of gemstones with exposure to approximately 30 world-renowned experts. The conference keynote speaker will be Shelly Sergent of Somewhere in the Rainbow. Class sessions will be conducted by gemstone experts including Doug Hucker, CEO of the American Gem Trade Association; Antoinette Matlins, author and former Gemology Editor of National Jeweler magazine; Amanda Adkins, from the popular TV series Prospectors; and Craig Lynch, owner of esteemed jewelry appraisal firm Ouellet & Lynch and Bryan Lees, Collector's Edge Minerals, Inc. Additional featured guests can be viewed on the Jewel School Institute's site.
During the conference, Jewelry Television will also debut a new jewelry collection, Bellarri, at their Knoxville retail location, the GemStore.For more information on the Gem Lovers' Conference and registration, please visit http://jtv.com/JSI.
About Jewelry Television®
Jewelry Television® (JTV) is the only interactive, multichannel shopping network that focuses exclusively on the sale of jewelry and gemstones. The privately-held company was founded in 1993 and broadcasts high definition programming 24 hours a day, 7 days a week, to more than 80 million unique households in the U.S. Jewelry Television® was recently ranked the 13th largest retailer of jewelry in the U.S. by National Jeweler. JTV.com is the fifth largest jewelry destination on the internet according to Internet Retailer's Top 500 Guide for 2010. For more information, visit jtv.com.