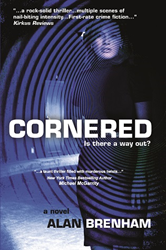 "Fascinating, well-researched thriller. This stuff really goes on." -James Hayman, USA Today Bestselling Author of Darkness FirstAdd a quotable
Austin, TX (PRWEB) July 16, 2014
The disturbing reality of young women being victimized as sex slaves still thrives today as crime rings are difficult for police to bust. These "professional criminals" often know as much about police procedures as the detectives.
Haunted by the memory of a kidnapping case turned deadly, Detective Matt Brady struggles to solve the disappearances of seven young women in Temple, Texas. He quickly finds himself pitted against a criminal organization that knows the investigative process all too well – an organization that will do whatever it takes to stay one step ahead of him. His troubles are compounded when a veterinarian injects herself into the investigation and is targeted to become victim number eight. When he tries to protect her, he finds himself in the crosshairs of a professional cop killer. Can Brady solve the case in time to save his new love, or will this investigation be the death of them both?
With nail-biting suspense reminiscent of your favorite Criminal Minds episode, Cornered dives into the dark world of human trafficking and criminal investigation while exploring just how far one man will go to stop history from repeating itself. Personal and professional relationships entangle while brilliant twists and turns keep readers guessing until the very end.
Brenham adds a sense of rawness to his writing that comes from having served as a law enforcement officer and then criminal defense attorney for twenty-seven years. The setting of Cornered is notably personal to him, as it is the same city he served as a police officer for much of his career.
"The things I saw and the types of cases I dealt with as a detective, prosecutor, and criminal defense attorney, helped me craft Cornered with a certain dose of reality," says Brenham. "This, combined with the relevancy of organized crime in the news and universal human experiences like greed, revenge, and guilt, make the story truly chilling."
Within the pages of the book that Kirkus Reviews calls a "rock-solid thriller" and "first-rate crime fiction," Brenham explores:

The troubling presence of organized crime, specifically human trafficking, in our society
How authorities work to piece together complicated criminal investigations
Whether we can ever truly know someone and their intentions
The power greed can hold and the devastating effects it can cause
About the Author:
After graduating from college, Alan Brenham [pseudonym for Alan Behr] worked as a US Treasury Special Agent, during which time he traveled through Europe and the Middle East as a Special Deputy US Marshal. He then joined the Temple Police Department where he worked as a patrol officer, then as a crime analyst. Brenham left for West Berlin, Germany, contracted to U.S. military forces as a civilian police instructor. Two years later, he returned to the Temple Police Department and was promoted to detective.
Brenham attended Baylor Law School and practiced as a prosecutor and, later, as a defense attorney. After leaving private practice, he worked as an Assistant General Counsel for the Texas Department of Criminal Justice. Brenham is now retired. His first novel, Price of Justice, won 1st Place in Police/Crime Fiction from the Texas Association of Authors (2013) and was a Finalist in the Thriller category of the Beverly Hills Book Awards (2013). Cornered is his second novel.
Website: http://www.alanbrenham.com Email: alan(at)alanbrenham(dot)com
Cornered can be purchased from http://www.amazon.com and http://www.barnesandnoble.com, and others as of July 19, 2014.