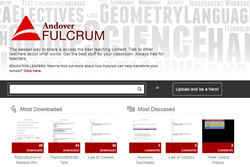 FULCRUM "allows teachers and districts to develop and share great content, find content, provide teachers with the content they need to achieve goals such as hitting state standards, and promote best practices in classrooms."
Westport, CT (PRWEB) July 15, 2014
Today, Andover Education launched FULCRUM, the dynamic teaching resource platform that is the key to cultivating best practices in the classroom, developing collaborative learning environments, and producing the data necessary to understand, innovate and improve classroom practices.
FULCRUM was created from discussions with teachers and thought leaders in some of the largest school districts in the country and was designed not only to be a content sharing platform between schools within a district, but also to be a collaborative platform for teachers across the state and country to share content and improve classroom teaching and learning. From worksheets, quizzes and exams to class projects and online resources, teachers can locate, curate, and use the best education content.
According to Andover's CEO, Nathan Allen, FULCRUM "allows teachers and districts to develop and share great content, find content, provide teachers with the content they need to achieve goals such as hitting state standards, and promote best practices in the classrooms. It also allows schools and districts to find and promote their instructional leaders, thus leveraging the talents of great teachers."
FULCRUM is free for teachers and teachers can use it independently or as part of a district program by searching and sharing content through easy search functions and effective tagging systems. Teachers can create, share and rate collections of content in order to curate their course materials. FULCRUM allows teachers to follow thought leaders in their fields to receive instant updates and the most used and effective content is listed first and instantly available. Teachers are able to quickly switch between their district's private database and FULCRUM's national content database. Teachers can and are encouraged to share curated collections. The most used or highest rated collections rise to the top and enable teachers and schools to connect with the most effective content for any given topic, subject, content type, or standard.
Allen summarized FULCRUM as "a dynamic, education version of Box.com or Dropbox, and more effective than Google docs for education. Teachers and districts create a lot of content. They need an effective way to share and evaluate it."
Districts can learn what's being used and what's effective and then drive that content into the classroom. With FULCRUM, districts can easily identify and disseminate best practices and district level personnel get an inside look into what is and isn't working. Leadership can easily determine who are the most active teachers in their district, what content is being used, and what topics are driving district discussions. District owned and licensed content can be excluded from content searches outside of the district, at the district's discretion. There is no need for a school to host FULCRUM as everything is cloud based and always accessible.
Key features include:

Instantly usable; no school/district servers required
Teacher self-registration
Tagging by any standard and natural language search so complex tag schema are easy for teachers to navigate
Automatic sharing with school, district or state
Print content direct from app (downloading not required)
Preview direct from app (downloading still not required)
Ability to share via email, social media, or carrier pigeon
In-app messaging, commenting, and notes
Teachers/Districts can work collaboratively on content
Teachers can follow thought leaders and easily find their best work
Ability for districts to create mentor-teacher relationships
Teachers receive badges and recognition for sharing their best work
Allen adds, "these features are just the beginning. We're iterating intensively, and new features will be added every few weeks." The new features will focus on collaboration, social, and refining best practices identification.
For more information about FULCRUM, visit andovered.com/schools-districts/FULCRUM .
To see how FULCRUM compares to other district solutions, visit http://andovered.com/schools-districts/fulcrum-feature-comparison/
To use FULCRUM, visit http://www.FULCRUM.AndoverEd.com.
Carrier pigeon not included, and probably won't work. But we're impressed you read that far.
About Andover Education
Andover was launched in Westport, CT in 2003 to develop educational content and quickly became known for its metric-based solutions for districts. Andover developed its own technology once it became apparent that the technology to deliver solutions was limited and out-dated. While a technology company, Andover's foundation is in teaching and learning. Andover operates an accredited school (grades 6-12) and employs a full complement of teaching staff. As a technology company, this enables Andover to develop ed-tech solutions that best address education challenges.