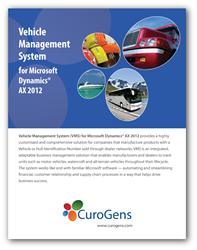 VMS v3.0 helps our customers save time and resources, streamline communications, and increase customer satisfaction.
Indianapolis, IN (PRWEB) July 24, 2014
CuroGens Inc., a global software application development company, announces a new release of Vehicle Management System (VMS) for Microsoft Dynamics® AX 2012 with added unit management flexibility for companies selling products by Vehicle Identification Number. The first Microsoft Dynamics AX 2012 third party add-on that facilitates enterprise management of vehicle fleet inventory by VIN, VMS enables manufacturers and dealers to effectively track units like recreational vehicles, automobiles, motorcycles, and all-terrain vehicles throughout their entire lifecycle with confidence and accuracy.
"We are thrilled to give vehicle manufacturers the ability to view their business operations from all angles, while driving value and efficiency throughout the entire supply chain process," said Jesper Kehlet, CEO of CuroGens. "VMS v3.0 helps our customers save time and resources, streamline communications between dealers and suppliers, and increase customer satisfaction."
Propelled from a comprehensive dashboard, VMS v3.0 offers multiple system upgrades and feature additions. The solution seamlessly integrates with Microsoft Dynamic AX 2012 to give manufacturers insight to vital business information as well as the ability to:

Create a Vehicle Identification Number (VIN) when placing a sales order in addition to at the time of scheduling.
Manage factory-to-dealer incentive programs and payouts (SPIFFs) across multiple units and dealer networks.
Utilize the finished bill of material (BOM) to document parts and quantities of each component, part, or sub-assembly required to finish the manufacturing process of a vehicle.
Record key safety information and incidents to ensure regulatory compliance with the Transportation Recall Enhancement, Accountability, and Documentation (TREAD) Act.
Monitor the movement of inventory across dealer networks with real-time access to available units, orders in process, units sold and units on order.
Create recall campaigns for specific vehicles or parts and streamline service communication with vehicle owners.
Track in-process component changes to multiple production orders, with the option to add or remove existing components to any order.
For more information about Microsoft Dynamics AX 2012 VMS v3.0, please visit http://www.curogens.com.
About CuroGens:
CuroGens, Inc. is a global software application development company headquartered in Carmel, Indiana. Harnessing the power of Microsoft Dynamics® AX, SharePoint, and .NET platforms, CuroGens provides global business solutions for companies across various industries to help them save time, streamline processes and generate revenue.