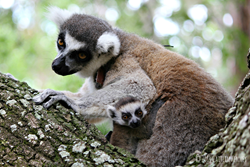 'With rapidly declining wild populations, colonies such as LCF's and LCF's participation in in managed breeding programs play an important role in the continued survival of the species.'
Myakka City, FL (PRWEB) July 16, 2014
Lemur Conservation Foundation welcomes the arrival of four ring-tailed lemur infants. All four ring-tailed infants are part of family groups living in LCF's multi-acre forest habitats, providing scientists and our animal husbandry team the opportunity to observe maternal and infant behavior in a naturalistic setting.
This summer, a set of twins was born to mother Ansell and father Yuengling. This is Ansell's second set of twins, following the birth of twin girls in 2013. After a few weeks, the new twin infants were observed climbing on Ansell and investigating their surroundings. Ansell and the new infants are living in the forest habitats with sire Yuengling and their yearling daughters born in 2013, twins Rogue and Allagash. Rogue and Allagash are often seen interacting their new siblings.
Two other ring-tailed lemurs gave birth to infants at LCF this summer. Sarsaparilla and Sobe, twin sisters transferred to LCF last year from the Duke Lemur Center as part of the Ring-tailed lemur Species Survival Plan, had infants with sire Molson. Although Sarsaparilla and Sobe are both first time mothers, they are both doing an exceptional job at caring for their newborns in the forest habitats.
Ring-tailed lemurs are listed as Endangered by the International Union for Conservation of Nature (IUCN) due to a largely restricted habitat, habitat destruction and hunting. With rapidly declining wild populations, colonies such as LCF's and LCF's participation in managed breeding programs play an important role in the continued survival of the species.
About Lemur Conservation Foundation:
Lemur Conservation Foundation was established in 1996 by Penelope Bodry-Sanders. LCF is a leader in the conservation and preservation of the primates of Madagascar through programs dedicated to observation oriented research, education, and lemur propagation, with a commitment to infuse art into all of our mission programs. LCF is an American Association of Zoological Parks and Aquariums accredited private, 100-acre facility based in Myakka City, Florida. Our current lemur population of 47 animals thrives in naturalistic free ranging habitats ranging in size from 9 to 13 acres, and smaller enclosures for animals in need of a more specialized environment. LCF is a respected voice for science, conservation, education, art, and lemurs, the iconic image of the conservation challenges and environmental stewardship facing Madagascar and the world.