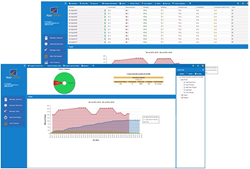 Los Angeles, CA (PRWEB) July 15, 2014
Providing top-notch application usage environment for high-profile clients and attorneys requires strong application testing. With constantly changing business needs and an increase in instant access to remote files, maintaining a properly functional and highly secure application can be demanding. NRG Global, a Los Angeles based quality assurance firm, offers a load and stress testing solution that gives a transparent view of what the end-user sees. AppLoader 7.7, the latest release, further improves upon its unique image-based testing method. Scalability, resource management, and usage in high security environments have seen enhancements. Due to this unique method, any firm management or Citrix application can benefit significantly from load testing. To learn more about NRG Global, click here. Or, download a free trial.
AppLoader works on any Windows based application, various workstations, and during all stages of development or rollout. Whether developing a customer application in-house or ramping up for a firm-wide implementation, AppLoader is capable of testing at any step along the way. It is fully scalable to meet a wide range of needs, allowing for testing of 50 users up to 10,000. Furthermore, due to its front-end testing, scenarios can be scripted to recreate actual user application usage. Find out more about AppLoader, here.
Citrix ShareFile, case management systems, and other legal applications offer high security access to files for attorneys and users. AppLoader's recent update improves functionality in high-security environments while still maintaining corporate standards and regulations. Logins, access to files, and other actions secure actions that typically require manual actions or scripting can be automated. NRG Global's current legal clients experience reliable results and less complicated set up in their secure environments.
When analyzing pre-rollout scenarios, it is necessary to see exactly when and where a failure occurred. AppLoader e-mails screenshots of issues and failures directly to the development or operations team. The sooner the teams are aware of the issue, the faster the failure can be resolved.
AppLoader offers reliable reporting and complete visibility of all aspects during the testing phase. With a professional support team and consulting for large or complex projects, NRG Global offers coverage for varying testing concerns. For a free trial of AppLoader, click here. To see exactly how a project will benefit, get a free proof of concept here.
About NRG Global:
NRG Global's motto is that you should test software the way you use it. Their software is built from the ground up to replicate exactly how the end user interacts with the application to give you the most accurate test possible.
Their unique approach to performance testing has helped companies around the world test critical business applications. Their clients include: Capgemini, JPMorgan Chase, Baylor Health Care System, UCLA, GAP, and NASA.
For more information about NRG Global, visit http://www.NRGglobal.com.
Contact Info:
Ted Petcu
NRG Global
+1.213.234.7550
tpetcu(at)nrgglobal(dot)com