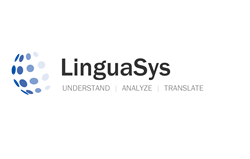 Boca Raton, FL (PRWEB) July 14, 2014
LinguaSys is leveraging coast-to-coast talent to reach companies investing in human language software for their multilingual customers. LinguaSys, the award winning international provider of human language technologies producing customized multilingual text analytics and Natural Language Processing software, announced today that Laura Tellez has joined the firm as Senior Sales Associate, responsible for U.S. West Coast regional sales to enterprises and SMB's.
"Laura has a very rich, diverse and impressive background in sales that will help advance our partnerships with companies seeking to enhance their language understanding and analysis capabilities," said Brian Garr, CEO of LinguaSys. "We're thrilled to have her work on exciting opportunities in Silicon Valley and the U.S. Western region."
Prior to joining LinguaSys, Tellez was Sales/Business Development Consultant conducting predictive, social media analytics sales at The Baxley Group; Senior National Ad Sales Manager at LoopNet, Inc.; Senior Sales Manager West Coast at ADTECH U.S.; Digital Ad Sales Manager for Washingtonpost.com; and Ad Sales Representative, USATODAY.com. She received an MBA from Golden Gate University; an MA in Spanish Literature and a BA in Spanish/Business Administration from Bowling Green State University. She was a Ford Foundation Fellow and the recipient of the Publisher's Award for sales at USA TODAY and The Washington Post. Tellez resides in San Francisco.
Currently offering solutions in more than 21 languages, and able to create new languages cost-effectively, with higher fidelity, in one third of the industry average time, LinguaSys' semantic and text analytical software for big data and social media enables firms of all sizes to understand their international customers. LinguaSys provides solutions to one of the largest mutual fund and financial companies in the world; one of the largest multinational deposit banks in the world; one of the world's largest hotel chains; one of the largest mobile network operators in the US; and federal government agencies, among many others. LinguaSys was awarded the Frost & Sullivan 2013 North American Early Stage Investment Opportunity Award in the Internet Software and Services Industry.
###
About LinguaSys, Inc.
LinguaSys solves human language challenges in Big Data and social media for blue chip clients around the world. Its natural language processing software provides real time multilingual text analysis, sentiment analytics and fast, cost-effective natural language user interfaces (NLUI). The solutions are powered by LinguaSys' Carabao Linguistic Virtual Machine™, a proprietary interlingual technology, to deliver faster and more accurate results. Designed to be easily customized by clients, the solutions can be used via SaaS or behind the firewall. Headquartered in Boca Raton, FL, LinguaSys is an IBM Business Partner. http://www.linguasys.com @LinguaSys
Contact:
Brian Garr
CEO, LinguaSys
brian.garr@linguasys.com
+1 561-755-7150