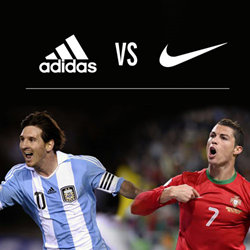 Boston, MA (PRWEB) July 15, 2014
Today, Protobrand releases the results from its latest study to gauge as to whether Adidas or Nike won out with its World Cup marketing efforts geared towards dominating the burgeoning soccer market in the US. This latest study using Meta4 Insight surveys an equal mix of men and women ages 18-34 years old, and who had watched at least two games during the recent coverage of the World Cup in Brazil.
The study reveals that at the deepest emotional level, the premise of "All In Or Nothing" fosters a stronger sense of self-identity and especially resonates among women, based on its emotional connection to fun, passion, and teamwork. The pre-post shift in Net Promoter Score revealed a nine-point swing in favor of Adidas, and significant increases in key implicit associations, such as courage, cool, performance, and perceived power.
"Adidas has found an emotional white space opportunity, at the intersection of giving it your all and in being part of cohesive team," says Stephen Hahn-Griffiths, Chief Strategist at Protobrand. "Our study suggests that Adidas is eroding Nike's brand dominance, and is striking the right emotional chord among people who love soccer."
In contrast, the study revealed that Nike scored somewhat of an emotional own goal with some of its marketing efforts during the World Cup. By similarly looking at the pre-post shift in brand equity, the Protobrand study revealed that Nike experienced a thirteen-point decline in Net Promoter Score, mainly because the brand alienated men. At the source of the emotional disconnect for male soccer lovers were the lurking feelings of pressure, performance anxiety, and apprehension, born out of the "Risk Everything" proposition for Nike.
According to Stephen Hahn-Griffiths, "Nike should take the lessons learned during the World Cup as a warning shot on goal. The accenting of risk yielded brand distress among Nike brand advocates – its messaging seemed to be too far removed from the celebration of achievement, and can-do purpose of the brand."
The net result of the Meta4 study was that Adidas almost usurped Nike's perceived brand dominance in the US, with an end outcome of 25 (Adidas) to 26 (Nike) in Net Promoter Score. It suggests that the overly aggressive marketing efforts and strategic emphasis on "risk" over emotional "reward" almost cost Nike the bragging rights of winning the Soccer Brand World Cup.
Meta4 Insight™
Meta4 Insight™ is a research methodology that builds upon decades of academic thought and scientific research into the workings of the human mind. Meta4 Insight is facilitated through an online application, using a proprietary image database to reveal people's subconscious minds.
About Protobrand Sciences, Inc.
Protobrand is an independent research and branding consultancy that offers a unique perspective on emotional insight mining. Through Meta4 Insight – our online application for metaphor elicitation – we mine the human subconscious and uncover the rich, hidden motivations behind people's behavior. With such insight as a foundation, we craft strategic and creative solutions that result in emotionally resonant brand relationships. Clients include major consumer brands such as Lee, Disney, Marriott, Bank of America, Target, Toyota, and Wendy's.