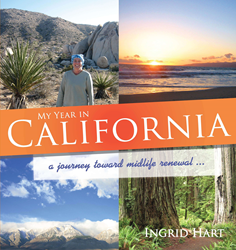 "Reality About Midlife Renewal Expeditions" -- Marty Nemko, Host, "Work with Marty Nemko–NPR…"
San Francisco, CA (PRWEB) July 15, 2014
"My Year in California: a journey toward midlife renewal" chronicles one brave woman's adventure toward self-discovery. This full-color travelogue has over ninety photographs documenting California's vast cultural landscape. It's a story about adventure, freedom and liberation. It's also about challenge, struggle, conflict, and the universal longing to find our way home. Hart's book won a silver award from the North American Travel Journalists Association and "best theme" Eureka! Travel Writing Award.
Hart, who is now a social media strategist for a travel app, defines the difference between a midlife crisis and midlife renewal. "A midlife crisis is when you feel stuck, frustrated and churn with emotional turmoil. Midlife renewal is a time in life when you realize that you can change the direction of your life and reinvent yourself. My book is about the journey or passageway between a midlife crisis and midlife renewal."
Hart shares five lessons she learned from her year-long journey:

If you want something to change, make a new choice
Invest in your own education
Always say yes to every opportunity
Release attachment to outcome
There is only one time and it is now
Baby boomers (78 million strong), seekers, and fans of history will be riveted to this courageous, page-turning adventure of both romance and heartbreak in the Golden State. Long after readers finish this ground-breaking book on midlife renewal, they'll be asking themselves: How far would I be willing to go outside my comfort zone to discover who I really am? What new choice will I make? These personal answers may set readers on the path of self-discovery, and perhaps, their own journey toward renewal.
Product Details
Paperback: 150 pages
ISBN-10: 0989749908
Product Dimensions: 8.5 x 8.5 x 2 inches
Cost: $9.95