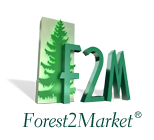 "These changes to the structure of the Operations group will support the growth Forest2Market is experiencing."
Charlotte, NC (PRWEB) July 15, 2014
Forest2Market has expanded the management structure of its Operations division in response to an increase in the volume and sophistication of customer and to the extension of its subscription services across U.S. and international markets. The Operations division is responsible for all data, analysis and reporting.
Sam Houston is moving from Chief Financial Officer to Chief Operations Officer, where he will head the division as well as information technology. Houston has an MBA in Operations Management and many years of experience in operations for MeadWestvaco. Houston was hired by Forest2Market in 2009 to manage existing customer relationships and lead new industry-wide initiatives relative to the supply chain. In 2011, Houston became Chief Financial Officer.
Pete Stewart, President and CEO of Forest2Market, noted that "Houston's experience and education make him ideally suited to manage operations through this expansion. While his assistance in financial matters has been valuable, I believe his skills can more directly benefit our customers with this new role in Operations."
In addition to the change in leadership, the Operations department has been split into two departments in order to accommodate expansion. Daniel Stuber will head the Analytics department; his title will change from Vice President – Operations to Vice President – Analytics. The Analytics department provides customers with in-depth analysis of data and supply chain trends in order to make high value business decisions, including wood basin and site selection studies and specialty forecasts.
Stuber joined Forest2Market in 2001 as a timber market analyst. He quickly moved up to Operations Manager and, in 2012, was made Vice President of Operations.
"These changes to the structure of the Operations group will support the growth Forest2Market is currently experiencing," says Stewart. "As head of our Analytics group, Stuber will continue to support the multi-million dollar decisions made by our customers with custom and proprietary analyses of prices, market trends and supply chain dynamics," says Stewart.
Jay Engle, formerly of MeadWestvaco, has joined Forest2Market as Director – Subscription Services. Engle is responsible for data collection, quality and reporting for all subscription services, including Forest2Mill, Forest2Market's stumpage price and delivered log and chip cost services in the US and Brazil, and the Mill2Market lumber service.
Prior to joining Forest2Market, Engle spent 38 years at MeadWestvaco in land management, operations, analysis and forest research in the southern United States and Brazil. He also served as lead for the company's Sustainable Forestry Initiative (SFI) Improvement Committee and as the company's representative on the West Virginia SFI State implementation Committee, where he was committee chair for 2 years. Most recently, Engle was manager of the Covington Forest in Virginia and West Virginia, where he oversaw land and forest management activities on 173,000 acres and managed a 13-person staff.
"With nearly four decades of experience, Engle's knowledge of the forest products industry will help us better serve our subscription customers in both North and South America. He provides the experience and leadership required to manage our staff of analysts and data quality specialists, the processing of millions of rows of data every year and the accurate, timely and compliant reporting of this data at regular intervals," says Stewart.
These changes to Operations went into effect on July 1, 2014. All members of the Operations staff work out of Forest2Market's Charlotte, North Carolina headquarters.
About Forest2Market
Headquartered in Charlotte, N.C., Forest2Market provides market pricing data, performance benchmarks and analytics, as well as supply chain expertise to customers in the forest, wood products, pulp and paper, lumber and bioenergy industries. For more information, visit http://www.forest2market.com.