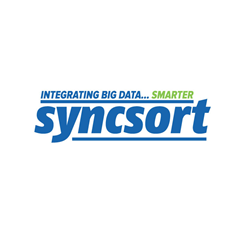 Woodcliff Lake, NJ (PRWEB) July 15, 2014
Syncsort, a global leader in Big Data software, announced that Database Trends and Applications (DBTA) Magazine named it to the DBTA 100 2014, which recognizes the 100 companies that matter most in data.
Syncsort was also chosen last year to be on the inaugural DBTA 100 list.
The editorial team at DBTA recognized companies that have become Big Data leaders, enabling organizations to more easily join the digital age and transition into data-driven entities. Syncsort gained notice with products that support Big Data initiatives by making it easier and more efficient to collect, process and distribute data across the enterprise.
Addressing one of the most compelling use cases in Big Data, Syncsort is providing organizations with the ability to shift expensive and inefficient legacy workloads to Hadoop and the cloud, to realize costs savings and speed data warehouse and mainframe processing. Syncsort also provides the tools for customers to take advantage of advanced business analytics and visualization solutions like HP Vertica, Splunk and Tableau.
"Data management challenges and opportunities have intensified over the past year, big data continues to impact organizations as they seek to extract value from the large quantities of data flowing in from traditional and newer sources like social media, blogs, sensors, meters and transactional systems," said Tom Hogan, Group Publisher of Database Trends and Applications Magazine. "As the massive increase in data has put more pressure on IT resources and budgets, companies like Syncsort have offered up innovative solutions to help ease the pressure that many companies and organizations are facing."
"At Syncsort we pride ourselves on helping the leading organizations around the world implement innovative solutions to solve their big data and Hadoop challenges," said Josh Rogers, President, Syncsort. "Being recognized again by DBTA as a leader in the big data and Hadoop space shows that our unique solutions continue to offer our customers significant value."
Syncsort provides secure, powerful Big Data software that gives businesses the tools necessary to support the rapid delivery of information and turn it into valuable company insights. For more information on Syncsort's Big Data products, click here.
About Syncsort
Syncsort provides fast, secure, enterprise-grade software spanning Big Data solutions in Hadoop to Big Iron on mainframes. We help customers around the world to collect, process and distribute more data in less time, with fewer resources and lower costs. 87 of the Fortune 100 companies are Syncsort customers, and Syncsort's products are used in more than 85 countries to offload expensive and inefficient legacy data workloads, speed data warehouse and mainframe processing, and optimize cloud data integration.
About Database Trends and Applications
Database Trends and Applications (DBTA), published by Information Today, Inc., is a bi-monthly magazine, delivering advanced trends analysis and case studies in information management developed by a team with 25 years of market coverage experience. Visit DBTA.com for subscription information. DBTA also delivers groundbreaking research of unparalleled depth and foresight exclusively through its Unisphere Research group.