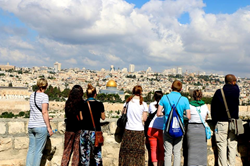 Safety is always our number one concern. If we don't feel it is safe then we don't go.
Indianapolis, IN (PRWEB) July 16, 2014
"Thankfully, we have never had a problem in 20 years of doing this," says Richard Sontag, director of Tekton Ministries Catholic Pilgrimages, Media and Non-Profit Management. "It's usually safe to say that if the airlines are still going, we're still able to go," he said.
At the same time, Sontag knows the risks involved. For over twenty years his pilgrimage company has been providing Catholic pilgrimages around the world.
"Conflicts pop up all over the world and can happen at any time. We saw riots just before World Youth Day but our pilgrims, along with 4 million others, still went and were perfectly safe," according to the seasoned director.
"We have many connections in the Holy Land and the majority of our pilgrimages are to the Holy Land. Being the public relations firm for the Franciscan Foundation for the Holy Land in Jerusalem gives you a certain insider knowledge, if you will," Sontag explained.
For Sontag, the pilgrimage office in Jerusalem and his contacts throughout the Holy Land are key resources in making what could be seen by some as a life or death decision. "Safety is always our number one concern. If we don't feel it is safe then we don't go."
"Nobody in this business would intentionally put people in harm's way, especially me," said Sontag.
When asked about specifics of the conflict that are so present in the media over the last week, Sontag said, "It's true that alarms have sounded in Tel Aviv, Jerusalem and Haifa. The reality, however, is that no rockets have come anywhere close to the regular Catholic pilgrimage sites that we visit."
The pilgrimage director knows how vital tourism is to the region. "Tourism is just too important to the Holy Land to allow the popular pilgrimage sites to be in danger," he said. "Tourism is a major source of income for the Holy Land. The violence is real but the pilgrimage sites are still safe."
The years 2012 and 2013 were record years for tourism to Israel, according to the Israeli Tourism Ministry.
Tekton Ministries has served the Franciscan Foundation for the Holy Land in public relations since 1996. The Foundation exists to preserve the Christian presence in the Holy Land, a presence that has been dwindling, according to the foundation's website.
Nothing has interfered with any of the current Holy Land pilgrimages, according to Sontag who checks in regularly with the pilgrimage office in Jerusalem. He himself is planning on personally sending off another group scheduled to leave from Indianapolis on July 21.
"We just pray and hope that our group can make their pilgrimage and that a level of peace returns to the Holy Land," he said.
To learn more about Tekton Ministries, visit http://www.tektonministries.org or contact Chris Weldon at cweldon(at)tektonministries(dot)org.