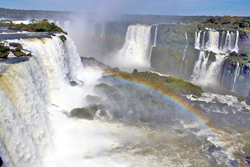 All packages are guaranteed to run with as few as two to four passengers and no tour will ever have more than 16 guests on board.
Seattle, WA (PRWEB) July 15, 2014
SouthAmerica.travel is always looking for ways to make South America accessible to a greater number of travel enthusiasts. As the continent can often be rather expensive to visit, as well as tour around, the new group tours for 2015 offer would-be adventurers a wider variety of options at very attractive price levels.
While most itineraries the company creates for clients are often customized versions of existing packages, the 23 escorted tours offer travelers more of an 'off-the-shelf' product. This means greater cost savings as well as the piece of mind that comes with knowing that your trip is coordinated in one package deal from start to finish, reducing the chance for unforeseen circumstances to interrupt your trip of a lifetime.
The packages are offered in two groups. The 'Best of' category offers 13 best-selling tours that include many of the must-see highlights the continent has to offer. The 'Explorer Line' features 10 in-depth tours that focus more on the highlights and hidden gems of each destination. All packages are guaranteed to run with as few as two to four passengers and no tour will ever have more than 16 guests on board.
Tours are most often occupied by North American and European guests and all tours are conducted by English-speaking guides. All travel arrangements are provided, including all internal flights and transfers. The only item that must be covered by guests are flights into and out of the continent.
Tours range anywhere from six to 22 days in length with the average tour being 10 to 12 days. The highlight of the 'Best of' line is a 15 day tour titled Best of South America, which covers seven destinations including Lima, Buenos Aires and Rio de Janeiro. There are country-specific tours for Peru, Argentina, Brazil, Colombia, Ecuador and Chile, while the remaining tours include country combinations as well as tours of the Amazon, Patagonia and the Galapagos.
The 'Explorer Line' is highlighted by the 22 day Crossing South America tour, covering five countries and 11 destinations including Santiago, Lima, Buenos Aires, Rio de Janeiro and Montevideo. Other popular tours include Taste of South America across three countries and World Heritages based in Peru and Ecuador.
Those interested are encouraged to book early as the 16 passenger tours are already warranting a lot of interest and are expected to fill up fast.