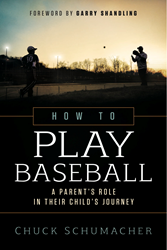 "As I read the chapters, I was stunned by the simplicitywith which he could describe complicated human behavior,and what to do." - Garry Shandling
(PRWEB) July 15, 2014
How to Play Baseball: A Parent's Role in Their Child's Journey is like a toolbox full of valuable information for parents, coaches or anyone who is in a position of responsibility for young athletes. The lessons, anecdotes and techniques that are presented are drawn from the extensive experience of the author, Chuck Schumacher. It is a balanced mixture of martial arts philosophy and the heart and soul of our national pastime.
Baseball is something all Americans have grown up with but few understand the intricacies' that go with playing the game, especially at a high level. This book points out the need for parents and coaches to play their role in a responsible way, respecting the difficulty of the game and the truth of proper training: that developing skill takes time, especially for young, inexperienced players.
Practical advice and techniques are offered throughout the book and the reader can go to the chapter that may address a particular need; chapters such as Effort, Staying Positive or Master the Basics before Attempting the Advanced. Readers will garner a wealth of useful and practical information that will help them play their role in a way that is helpful to kids. Examples of incorrect behavior and thinking by adults that actually hinder a child's progress instead of helping, are presented throughout the book. Consequences to kids are discussed and solutions are offered.
The life lessons that are available through baseball and other sports are relative to every chapter. Adults are encouraged to be the ones who help kids understand how their actions, good, bad, or indifferent, will directly affect not only their playing time on the team, but eventually other areas of their life. The reader will also learn that patience is the ability to be at peace with a situation as it develops. Not living in the past, not living in the future, but living in the present moment. In addition, there is a dedicated chapter for volunteer coaches with advice on coaching kids, including wearing the right hat: the youth coaching hat, not the major league baseball hat.
Author Chuck Schumacher is an American karate and baseball instructor. Chucks longtime training in martial arts has resulted in an expert understanding of movements of the body & discipline of the mind. He has become known for his ability to work with young athletes to achieve skill & develop character. The mainstay of his teaching & writing has been to educate parents and coaches to play their role correctly so kids can enjoy the process of skill development while learning life lessons.
How to Play Baseball will be released July 15, 2014 in trade paperback (978-1-939447-42-5) and in e-book (ISBN: 978-1-939447-43-2).