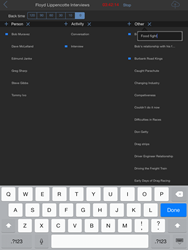 With the addition of the new iOS application, the creative team at Lumberjack System has developed yet another disruptive tool to make creative non-scripted work faster, more efficient and less expensive. (Phillip Hodgetts)
Burbank, California (PRWEB) July 16, 2014
With the release of the free iOS Logger app, a part of Lumberjack System, loggers are able to log non-scripted, reality, documentary, sports or conference video anywhere, even without an internet connection. The Lumberjack iOS logger is now available in the App Store.
To celebrate this important milestone, Lumberjack System and Intelligent Assistance will give a free copy of Producer's Best Friend (a $99 value) to the first 50 people who sign up for an annual subscription for Lumberjack System.
"Lumberjack System was conceived in an environment of guaranteed Internet access, but feedback from beta testers made it obvious that we needed to extend Lumberjack System logging away from the Internet in order to handle remote locations that do not have access to the web," says Lumberjack System CEO Philip Hodgetts.
With this new addition to Lumberjack System, events can be set up and prepped using a browser-based interface and with the convenience of a full size keyboard. Then the event can be carried anywhere on the user's iPad. After media logging is finished, the iPad app synchronizes back to the online Lumberyard app and the logging is available for use by the postproduction team.
Lumberjack System is available at LumberjackSystem.com/signup for $9.99 per month with a yearly subscription or $25 per month with no commitment. It is easy to operate and can be learned in a very short period of time. It is customizable to just about any type of production, and has been used for reality and non-scripted, sports, conventions, corporate videos, weddings and events, among others.
Lumberjack System Family of Solutions:
The Lumberjack System family does away with old-fashioned paper logging and includes the Lumberjack web application for live on-set logging with internet connection, the new iOS app for logging without an internet connection that can be keyword-synched at a later time once there is internet access and Story Mode for creating string-outs from already logged footage. The Lumberyard desktop app is an integral part of the Lumberjack System. Lumberyard synchronizes the on location logs with the media information from FCP X via XML. Within seconds, all keywords and metadata are logged to the media and returned to FCP X. With the addition of the new iOS application, the creative team at Lumberjack System has developed yet another disruptive tool to make creative non-scripted work faster, more efficient and less expensive.
About the Developers:
The Lumberjack System family of products was created by the founders of Intelligent Assistance: Philip Hodgetts and Gregory Clarke, PhD, well-known digital disrupters and futuristic thinkers, specifically to help content producers. Intelligent Assistance, Inc. is an innovator in technology and systems for producers and editors. The award-winning company has been on the forefront of editing and workflow management software since 2007. For more information, please visit http://www.lumberjacksystem.com.
About Producer's Best Friend:
Producer's Best Friend for Final Cut X saves hours of time producing project deliverables as it quickly generates reports on clips used in events, compound clips or FCPX project timelines: comprehensive metadata reporting.  It outputs a formatted .xls spreadsheet report that can be customized to include details on markers, keywords, video effects, audio effects and transitions and also summarizes usage and lists roles and subroles. Producer's Best Friend retails for $99 on the MacApp Store.
###