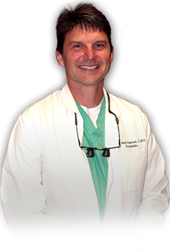 Tupelo, MS (PRWEB) July 14, 2014
Dr. J. Michael Robertson, a Tupelo, MS periodontist, now offers patients access to some of the most cutting-edge and advanced technologies available in dentistry today. Through the use of digital x-rays, Dr. Robertson is able to accomplish a number of things, all of which benefit the patient in a significant manner. Dental implants are one of the procedures which seem to benefit from the doctor's use of digital x-rays, as the images generated by the x-ray assist the dentist in determining the appropriate placement of the implant while minimizing the patient's exposure to radiation.
The digital x-rays used by Dr. Robertson allow him to view the x-ray immediately through a computer, which also enables the image to be further enhanced. This results in an increased likelihood that the dentist will be able to identify and diagnose certain conditions, and in many cases the diagnosis can be made in advance of those conditions becoming a problem. The digital x-rays also shorten appointments for patients and enable them to become a part of the process by viewing their own x-rays on the same computer used by the doctor.
Tupelo, MS periodontist, Dr. Robertson, offers dental implants to patients who are suffering from the complications caused by missing teeth. This is a common issue in the United States, as 69 percent of American adults have lost at least one permanent tooth by the age of 44, while 26 percent of adults over the age of 74 have lost all of their permanent teeth. While there are a number of treatment options available, many patients are turning to implants due to the long-term effectiveness and security they are able to provide. Since the implant is secured into the jawbone, it is very likely that the implant will last for a very long time while functioning in the same way as the original teeth.
Patients who are seeking a Tupelo, MS periodontist for dental implants or any other procedure should contact the office of Dr. Robertson to make an appointment for consultation. The doctor may use digital x-rays in order to diagnose a variety of conditions, and the images may help in determining whether or not implants are an appropriate solution.
About the Doctor
Dr. J. Michael Robertson is a periodontist offering personalized dental care for patients in Tupelo, MS. Dr. Robertson received his B.A. from the University of Mississippi as a chancellor and Dean's List scholar, and his D.M.D. from the University of Mississippi School of Dentistry. He earned his certificate in periodontics from the University of Alabama. Dr. Robertson is part of one percent of dental professionals providing the LANAP® protocol, an FDA cleared laser procedure for gum disease and periodontal treatment. To learn more about Dr. Robertson and his dental services visit his website at http://www.northmsperio.com and call (662) 269-1317.