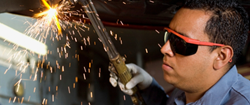 "Our welding programs respond to industry needs" --- Robert Rossell, Academic Chair, School of Trades Technology.
Pittsburgh, PA (PRWEB) July 15, 2014
Pittsburgh Technical Institute first responded to Western Pennsylvania employers' needs for a skilled welding workforce with a new Welding Technology certificate program introduced in November of 2012. Then, in October 2013, the college opened its new Energy Technology Center with a state-of-the-industry Welding Lab featuring 36 welding booths including 24 Oxy Acetylene stations.
Later this month, on Monday, July 21, PTI will welcome its first class of welding students into a 21-month associate of science degree program that offers expanded welding training for the pipe and structural industries and professional development courses.
PTI officials expect that the upcoming July and October 2014 classes will be filled to capacity with students from throughout Western Pennsylvania, Ohio, West Virginia and beyond.
"Our welding programs respond to industry needs," said Robert Rossell, Academic Chair, School of Trades Technology. "PTI's Welding Technology program is in high demand because the need for skilled welders in Western Pennsylvania has increased due the oil and gas industry. Additionally our aging infrastructure – our roads, our bridges and our tunnels – create substantial need for rebuilding and repairing our region.
"As our mature workforce retires, PTI is preparing up and coming welding professionals for jobs requiring skills in downhill and uphill pipe welding, high pressure tube welding, multiple position welding, and blueprint reading augmented by career skills such as critical thinking, human relations and communications," Rossell explained.
According to Rossell, the factors which set PTI's programs apart from other schools are accessibility to a top-notch facilty, experienced instructors, and the opportunity to achieve 10 certifications.
PTI associate degree welding students are prepared to sit for the American Welding Society (AWS) SENSE Level 1 Entry Level and SENSE Level 2 Advanced Welder certifications plus AWS, American Society of Mechanical Engineers, and American Bureau of Shipping certifications in key areas such as 3" pipe in the 6-G position, 6" pipe in the 6-G position, 3/8" bevel plate in all positions, and several others.
"Our graduates will be prepared for careers as fabrication welders, boilermakers, steam fitters, iron workers, sheet metal workers, pipe fitters, pipe welders and welding inspectors in many different industries," said Rossell.
PTI welding students have the advantage of curriculum developed with close guidance of professionals affiliated with the American Welding Society Pittsburgh Chapter. In the seven-quarter program, students complete 17 welding courses, 11 general education and career-related courses, plus an industry internship for additional hands-on experience in a work setting.
Classroom hands-on skill training includes in-depth processes such as Shielded Metal Arc Welding (SMAW), Gas Metal Arc Welding (GMAW),Flux Core Arc Welding (FCAW), Gas Tungsten Arc Welding (GTAW), Plasma Arc Cutting (PAC) and Oxy-Fuel Cutting (OFC).
For information about The School of Trades Technology at PTI.
Video: Day in the Life of a Welder
ABOUT PITTSBURGH TECHNICAL INSTITUTE
Offering career-focused education since 1946, Pittsburgh Technical Institute is a two-year college with a 180-acre campus in North Fayette, west of Pittsburgh. PTI also offers programs through PTI Online and culinary programs through the American Academy of Culinary Arts, AACA. PTI awards degree and certificate programs in areas such as, Business, Criminal Justice, Hospitality and Culinary Arts, Design, Healthcare, Nursing, Information Technology, Trades Technology, and Energy and Electronics Technology. PTI students can take advantage of online course offerings, on-campus residence halls, student activities, intramural programs and community service programs. PTI is accredited by the Middle States Commission on Higher Education. PTI was recognized by its employees as one of the region's Top Places to Work in a 2013 study commissioned by The Pittsburgh Post-Gazette and is designated a Military Friendly School for the fourth consecutive year. For information about PTI: http://www.pti.edu.