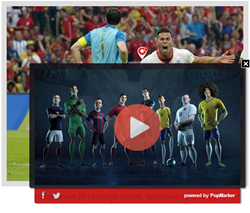 PopMarker anticipates that Group Marie Claire will achieve CTR that exceeds current industry standards for banner ads by at least X20, same as Nike, Toshiba, Volkswagen, HSBC and many other brands' achieved CTRs, using its technology.
New York, NY (PRWEB) July 29, 2014
PopMarker, the developer of the most advanced and patented SaaS (Software As A Service) interactive in-image ad platform, announced today a partnership with Group Marie Claire, the French leader of women high fashion and lifestyle magazine publications, to take advantage of the company's cutting edge technology to generate revenues from in-images ads on their sites.
Group Marie Claire owns and operates major online publications such as Marie Claire,
Cosmopolitan, Cuisine et Vins de France, and Magic Maman, as well as its own advertising agency GMC Factory Connect. The Group Marie Claire France brand publications generate 180 Million page views, while other online publishers related to GMC Factory Connect reach additional 90 Million page views.
"The fashion industry accounts for a significant number of images online, which makes us very excited to begin working with Group Marie Claire and allowing them to take advantage of this new advertising opportunity," explained Sarper Kocabiyik, Founder and CEO of PopMarker. "We anticipate that Group Marie Claire will achieve CTR that exceeds current industry standards for banner ads by at least X20, same as any of the many brands that are currently using our technology through foreign ad agencies, such as Nike, Toshiba, Volkswagen, HSBC, and Little Caesars, to name a few."
According to Sarper Kocabiyik, PopMarker's SaaS technology enable publishers and ad agencies to scale up their advertising business literally from zero to hundreds of active campaigns almost overnight.
"Our model is extremely beneficial to cutting costs on development time for enterprise-sized company like Group Marie Claire. PopMarker features scalability where the process of advertisement placement and delivery is done online. All advertisements made to PopMarker's specifications are cross platform, cross device and mobile responsive enabling delivery to all online visitors."
The PopMarker technology also resolves advertisers' uncertainty about the Viewability of their ads, by providing this data during the campaign run. Publishers and advertisers have complete control of both the level of Viewability and level of Intrusiveness of their ads.
PopMarker's technology provides superior relevance achieved by its proprietary algorithms for content recognition, image recognition, and in-image object recognition. Alignment of all three, using the company's unique and patented tagging technology, produces the highest level of relevancy of the ads to the interest of the reader.
According to Sarper Kocabiyik, PopMarker achieved remarkable engagement results averaging 4.26% click-through-rate (CTR) over the last 80 campaigns, which is completely off the chart compared to 0.1% CTR of standard banner ads.
About PopMarker:
PopMarker is an international provider of in-image ad placement and delivery technology. Its Interactive In-Image Advertising Platform is geared for publishers and advertising agencies. The company's vision is to become a leading provider of global in-image advertising SaaS platform.