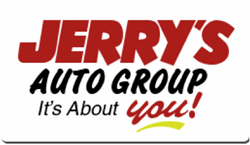 Baltimore, MD (PRWEB) July 16, 2014
Muscular Dystrophy Association is a nonprofit agency dedicated to curing muscle disease, ALS and related diseases by funding worldwide research. The association also provides comprehensive health care and support services, advocacy and education. The MDA clinics serving the Maryland area are located at Johns Hopkins Hospital in Baltimore, MD.
To learn more about the MDA's cause, please click here.
Jerry's Auto Group is the premier dealer of new and used cars in the greater Baltimore area, including Towson, White Marsh, Perry Hall and Essex. Always guaranteeing low prices for their clientele, they specialize in Chevrolet, Mitsubishi, Scion, and Toyota.
The two entities decided to partner in a common cause for the welfare of those who have been affected by this disease. With 43 types of muscle disease known as muscular dystrophy, awareness of these diseases rose sharply in the late 60's thanks in part to the efforts of the MDA. Jerry's Auto Group feels strongly to help area families that are living with a muscle wasting disease and has engaged in a relationship with the MDA in order to bring more awareness and aid to area children and adults.
Jerry's Auto Group is teaming up with the local Muscular Dystrophy Association Chapter on July 21, 2014 to hold their inaugural golf classic. The event will be held at the exclusive Hayfields Country Club located in Hunt Valley. Jerry's Auto Group along with their vendors, clients and business contacts will be enjoying a day of golf, networking and fun to help area MDA children and adults living with muscle disease. The event tee time is 9am and the lunch reception following golf should be 1:30pm. The event is rain or shine.