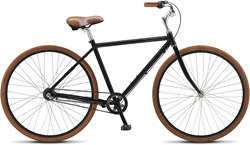 Priority takes the frustration out of buying and owning a bike with designs that require no maintenance, are price affordable and look great.
New York, NY (PRWEB) July 15, 2014
Priority Bicycles, a New York based bicycle company dedicated to making cycling easier and more enjoyable through smart design, announces the launch of its first collection featuring men's and women's bicycle models. Available via crowd sourcing website Kickstarter.com (http://www.prioritybicycles.com/kickstarter), the collection features high quality, lightweight construction and eye-catching designs. Through normal retail channels this bicycle would cost over $800, however Priority will sell the bicycle for $399, and for their Kickstarter.com customers Priority will offer an introductory price of $349, including shipping. The maintenance-free bicycles offer riders a chainless belt drive that is leaps and bounds better quality at an affordable price, making it the ideal transportation for new cyclists, every-day commuters and anyone desiring a worry-free ride. Priority's tag line is "Happiness in Motion."
Priority Bicycles are built from rust-free aluminum, and feature an innovative, lubrication-free belt drive in place of standard greasy chains, breaking and gearing systems that require zero maintenance, a kickstand, water bottle cage and tire pump. A true blend of beauty and functionality, every component of Priority Bicycles is designed for easy assembly, comfort and a smooth, easy ride.
"Owning a bike should be easy and fun, not a hassle. It should be simple to use and enjoyable to ride whether you're going to the grocery store, work, or just taking a spin around the block, "said Dave Weiner, Priority Bicycles founder. "Priority takes the frustration out of buying and owning a bike with designs that require no maintenance, are price affordable and look great." Priority Bicycles is an online only company. By eliminating a physical storefront and retailer channel, Priority can provide a better product at a much lower price."
Weiner grew up in the bicycle industry prior to launching a software career in the mid-2000s. He spent the past decade building a successful high-tech company that he sold in 2012. Weiner started Priority because he was frustrated with the products in market. Dave witnessed so much innovation in the bicycle industry, all done to benefit the professional rider while little was being done to benefit the non-professional. Priority Bicycles is the fruition of Weiner's long-time dream of creating a company that makes it easier for the non-professional to enjoy cycling. Priority understands that consumers have limited time on their hands, and they want a great product that simply works when they need it. Priority promotes healthy, active lifestyles and keeps the user in mind with quality at the forefront, low maintenance, clean design and ease of shopping and delivery.
Priority Bicycles are available for pre-sale on Kickstarter.com through August 14 and will be delivered in early December before the holidays. Each bike comes with a satisfaction guarantee - if the customer doesn't love the product, Priority will take the bike back no questions asked.
Priority Bicycle Features & Benefits:

Visually appealing: Beautifully designed
Lightweight: Take it anywhere, even carry it up stairs
Comfortable to ride: No extra padding required
Theft deterrent: Quick releases have been replaced with bolts deterring theft
Quality construction and components: No-rust aluminum frame, Puncture resistant tires, Smooth, quiet, greaseless, belt drive, Internal hub foot brakes, Maintenance-free three-speed internal hub with grip shifter, Kickstand, Water bottle cage
Simple to order, assemble, ride and maintain: Just get on and ride, on your terms
No technical bike knowledge or maintenance required
Affordable: $399 (available to Kickstarter supporters for $349).
To support Priority Bicycles, and learn more about the launch, visit http://www.prioritybicycles.com/kickstarter.
Contact:
Ryan Hayter, 360-981-2929, ryan@haytepr.com
Kate Gaeir, 206-334-0863, kate@hayterpr.com