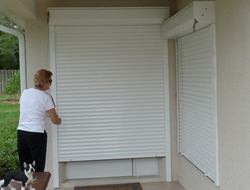 We guarantee that you will have a quality experience when you choose our company to safeguard your structure with our quality exterior rolling shutter products.
Fort Lauderdale, FL (PRWEB) July 14, 2014
HurricaneShuttersFlorida.com, a leading manufacturer and distributor of custom hurricane shutters, security shutters, and decorative shutters recently announced that they have launched their Hurricane Season 2014 special offers and promotions on their rolling shutter products. Product discounts range from $100-1000 or more off of orders based on order size. Shipping discounts are available to select regions. Product specific incentives are also available on: automated rolling shutters, manual rolling shutters, foam-filled rolling shutters, and security rolling shutters.
With over 35 years of experience in design, sales, manufacturing, and construction, the Hurricane Shutters Florida team continually strives to deliver the highest level of product quality and customer satisfaction. Hurricane Shutters Florida is currently one of the largest, most technologically advanced manufacturers of roll-down shutters and rolling shutters available on the market today. Hurricane Shutters Florida's products meet the most stringent wind code standards of Miami-Dade and the state of Florida. They also feature rolling shutters that are meant for security, energy savings, and decorative aesthetics. HurricaneShuttersFlorida receives more than 100,000 unique website visitors per year and has become a leading manufacturer of rolling storm shutter and rolling security shutter products for both residential and commercial applications.
"Our rolling shutter experts will guide you through the hurricane protection process and answer any questions you may have related to properly protecting and securing your residence or business," explained President, Michael J. Joiner. "We guarantee that you will have a quality experience when you choose our company to safeguard your structure with our quality exterior rolling shutter products. Hurricane Shutters Florida is your one-stop for hurricane protection, decorative shutters and security shutters."
For the past 8 years the parent company of HurricaneShuttersFlorida.com, Empire Construction and Development Corp., has manufactured and delivered rolling hurricane shutter products to more than 5,000 Internet generated customers worldwide and is known for their superior quality and "lowest price online" savings. All of their products come with a 10-year guarantee. When a customer needs roll-down shutters built and shipped to their front door, it's the mission of the Hurricane Shutters Florida team to provide every customer with a combination of the best shutter products and world-class service. They also offer financing of rolling shutter purchases through Paypal's Bill Me Later service.
Hurricane Shutters Florida's Hurricane Season 2014 rolling shutter promotions include discounts on the following products:
Rolling Shutters - the ultimate in storm protection, security, and ease of use. Available in both motorized and non-motorized versions.
Security Rolling Shutters - the best way to secure a home or business.
Decorative Rolling Shutters - add security and elegance to any type of opening or structure.
They also feature other types of popular hurricane protection products:
Accordion Shutters - 3 types of ultra-convenient accordion shutters are available
Aluminum Panels - rigid storm panels in aluminum and steel
Clear Panels - see-through storm panels made of dense, lightweight plastic
Bahama Shutters - a stylish, energy reduction and storm protection product for home and business
Colonial Shutters - classical styling and storm protection for that Northeastern look
Impact-resistant Windows - windows that are impact tested to stringent standards
For more details or to obtain an online quote for your rolling hurricane shutters visit http://HurricaneShuttersFlorida.com or call 1-888-474-3555 to speak to a sales consultant.