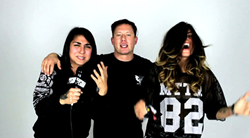 I don't think we'll ever feel like we've made it. We have a long way to go, we're always striving to be better songwriters, play better shows and gain more fans. -Jahan Yousaf
Boston, MA (PRWEB) July 15, 2014
THIS is not a typical interview. It covers topics such as what the sisters mean by, "Get Wet", how they feel about their fans, and their humble roots in Chicago. Krewella is the EDM electro-club, big beat trio made up of the hottest, funniest, craziest , Pakistani Chicagoan sisters the world has ever known and super producer DJ extraordinaire Rain Man (Kris Trindl). Jahan gets into her ability to communicate with demonic spirits and her religious beliefs centering on Rowan Atkinson. Yasmin fills fans in on her style from Married to the Mob to Spray Ground back packs, sexual arousal from fans faces and what their music really means. Karmaloop CEO and Founder Greg Selkoe hangs on every word and admits, "This interview was life changing."
Watch the video produced by Karmaloop TV here to see more.
Krewella is formed by Chicago-based Johan & Yasmine Yousaf, as well as Kristopher "Rain Man" Trindl. The trio headlined the Karmaloop & Emuze Spring / Summer 2014 Verge Campus Tour along with Hip-Hop artist Logic. The tour hit more than 10 states and 20 college campuses causing nationwide pandemonium.
Despite all the risqué erotic talk and silly hijinks they also got in some important messages on what drives them, "I don't think we'll ever feel like we've made it. We have a long way to go, we're always striving to be better songwriters, play better shows and gain more fans." explained Jahan Yousaf, 1/3 of the dynamic trio.
Check it out this rare and exclusive interview and see why these two hot, sexy and talented sisters (along with their group Krewella) are taking the world by storm as they head to superstardom!
About Krewella
Formed in 2007, from Chicago, Illinois this EDM trio has released 2 top selling albums and numerous mixes.
About Karmaloop
Karmaloop is a world leading, multi-platform, e-commerce streetwear retailer and lifestyle brand. The company was founded in 2000 by CEO Greg Selkoe.
About Karmaloop TV
KarmaloopTV has been at the forefront of unique collaborative content for almost a decade now. Originally conceived as a vehicle to promote Karmaloop.com's bustling online streetwear shop, the premium YouTube channel has since evolved into a coveted original content creator, helping craft video productions and artist collabs for some of the biggest names in streetwear, music and fashion.