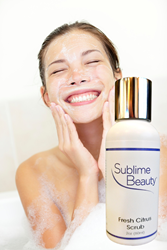 "The scrub delights all ages, from younger women with oily skin to older women who like the exfoliation and encouragement of collagen," says Heshelow.
St. Petersburg, FL (PRWEB) July 15, 2014
The special 20% off sale ends tonight at midnight for the Fresh Citrus Scrub at Sublime Beauty®. Use coupon 20SCRUB at checkout.
"The cleanser delights so many of our clients," says Kathy Heshelow, founder of Sublime Beauty®. "Younger women like it to deal with oil, breakouts or just getting a clean face, while older women love the exfoliation, encouragment of collagen and fresh feeling."
Oily skin types can use the scrub daily. Aging, normal or dry skin should use it 2 to 3 times weekly.
A key ingredient is Salicylic Acid, well known at dermatologist offices and spas across the country for its benefits. It helps loosen and shed cells around the skin follicle which can clog pores or become acne. It also loosens dead skin cells that should be exfoliated to reveal fresh, smooth skin.
The wash is pleasant and silky - and it smells great. Simply use a dime size on damp skin, massage and then rinse with cool water.
The Blemish Terminator® Salicylic Wash is found on the Sublime Beauty® Shop site, and is part of the new Blemish Terminator line, coming out for aging oily skin and adult acne.
ABOUT: Sublime Beauty® is a quality skincare company that focuses on products to "Age Younger". Products help to boost collagen, hydrate, relax wrinkles and improve skin. A niche includes healthy Skin Brushes. The company webstore offers free standard shipping and a VIP Club. Sign up for Secret Sales on the site. Products also available on Amazon.