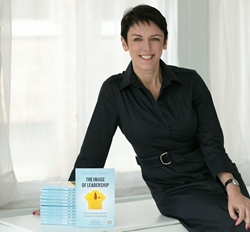 Sylvie's bottom line is there is "no excuse for unprofessional appearance." This is something all of us need to hear — no excuse! From the foreword of Jeffrey W. Hayzlett, Primetime TV Show Host, Bestselling Author & Sometime Cowboy
New York, New York (PRWEB) July 16, 2014
Sylvie di Giusto unveils her new book, The Image of Leadership,which takes a look inside creating an authentic image for personal and professional success. As the owner of New York-based Executive Image Consulting, di Giusto shows executives how the combination of ABCDs – Appearance, Behavior, Communication and Digital Footprint – reveals a person's story, and how that story becomes a company's reputation.
Seven seconds is all it takes to make an impression. Di Giusto details how to bring a person's interior and exterior into alignment to present a desirable, respectful image. The book is filled with relevant examples of what leadership looks like and who is on point in business and politics.
"A positive imprint is what ultimately boosts the bottom line of any career and business," explains di Giusto. " It's what captures clients, ensues trust and makes people want to do business with you. Employees should tell your company's story – but in a way that is true to who they are." This book points out there are always two stories to tell, and why executives, small business owners and large corporations alike should tap into both images for business success.
"There is no one-size-fits all formula when it comes to image," reveals di Giusto. "It depends on the industry, corporate culture, company values, career level and employee aspirations." The Image of Leadership brings awareness to everything from clothing and speech to posture and online presence. If your employees can convey trustworthiness, competence, a level of sophistication and professional desirability – within seven seconds of meeting someone – your company will appear genuine, strong and capable.
The Image of Leadership takes readers beyond wardrobe. It features a thoroughly modern approach to helping individuals and companies understand how to create a positive, genuine image that stands out in the world – for the right reasons.
About Sylvie di Giusto
Sylvie di Giusto is a personal image consultant with the branding statement "People packaging is what I do." She writes from 20 years' experience as a human resource professional and as the principal of Executive Image Consulting. She is available for individual coaching, corporate group training and keynote speaking for special events and conferences.
Information about Sylvie di Giusto is found at http://www.executive-image-consulting.com. For press inquiries about The Image of Leadership or to set up an interview, email press@theimageofleadership.com. Visit http://theimageofleadership.com/ for photos and additional information.