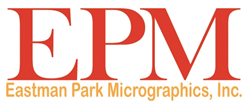 (PRWEB) July 15, 2014
Rochester, NY (July 15, 2014) – Pursuant to a decision rendered on July 2, 2014, and the ensuing order issued on July 14, 2014, the New York State Supreme Court, Monroe County, New York granted EPM's request for a preliminary injunction against Kodak Alaris with respect to the micrographics service business. This injunction enjoins Kodak Alaris from competing with the EPM Imagelink business in the United States and Canada, which will prevent Kodak Alaris from soliciting or providing micrographics services to customers in those countries. It also enjoins Kodak Alaris from using EPM's confidential, proprietary or trade secret information for any purpose in the United States and Canada, and from disparaging EPM, its employees, service or products in the market.
Building on its December, 2013 acquisition of Imaging 411, in April 2014 EPM announced the formation and implementation of its own field service organization to provide micrographics service in the US and Canada, and terminated a subcontract with Kodak Alaris to provide those micrographics services. The EPM organization is now fully operational and provides a superior support option for analog and digital equipment customers.
In order to protect its micrographics service customer relationships, EPM filed a lawsuit, Eastman Park Micrographics, Inc. v. Kodak Alaris Inc., Index No. 14-5444, in New York State Supreme Court, Monroe County, New York (filed May 12, 2014), alleging that Kodak Alaris has breached its obligations to EPM by improperly soliciting business from EPM's micrographics service customers and misappropriating EPM's confidential and proprietary information.
"We are pleased that the court has found sufficient support in the evidence presented to grant the preliminary injunction sought by EPM," commented Kevin Harvell, Chief Operating Officer, EPM, "and look forward to the continued growth and enhancements to the services we can provide our customers."
For additional information on EPM Service capabilities, email info(at)epminc(dot)com
###
About Eastman Park Micrographics, Inc.
Eastman Park Micrographics was formed in March 2011 upon the purchase of the micrographic business from Eastman Kodak Company, including: the worldwide customer base for equipment, film and service; the exclusive multi-year worldwide distribution rights for Kodak microfilm; and the ongoing rights to manufacture and sell former branded Kodak micrographics equipment. EPM now markets its media and equipment under its trademark Imagelink brand name. EPM's mission is to develop and supply the microfilm materials, equipment and service to address the needs of the preservation market. In January 2013, EPM entered into a long-term worldwide master supply agreement with Agfa to provide additional Imagelink-branded micrographic products and photo chemicals to the market. In December of 2013, EPM acquired the assets and business of Imaging 411 to enhance its ability to provide timely and experienced service and support in the US and Canada.
Imagelink is a trademark of Eastman Park Micrographics, Inc.