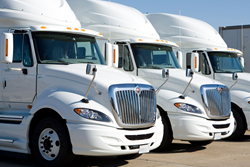 Los Angeles, CA (PRWEB) July 14, 2014
24-7 Van Lines is planning to update the internal GPS of their moving trucks, which already provides satellite telemetry data relayed to company operators. This data allows 24-7 Van Lines to better track their assets, including inventory belonging to clients, physical equipment, and personnel. When updated, the GPS system will also help monitor the driver's efficiency in regard to commanding the vehicle.
A company spokesperson for 24-7 Van Lines suggested that the return might be enormous. "The new GPS software update is being planned for a field test with our Costa Mesa movers first. Afterward, we'll use the initial data to adjust the software algorithms again. Because of the new operating system, we're expecting that the time drivers spend on the road will be greatly reduced. There's been a positive employee response thus far.
The GPS will now also be capable of tracking driver movements related to stopping, starting, and defensive driving habits during periods of heavy traffic, poor weather, or low visibility. This will allow company officials to plan and adapt routine training courses to better instruct their drivers, and point out common mistakes.
Drivers have responded with excitement due to a new GPS feature, the emergency replacement system. By tapping a button and inputting a simple four-digit code, a driver is able to alert operators of an emergency or vehicle failure. The operator would then immediately send the nearest moving crew out with a new vehicle in hopes of losing as little time as possible to the encumbrance.
The GPS will be paired with new onboarding technology which eliminates the need for paper logs by tracking many vehicle statistics related to maintenance and efficiency. Along with the GPS, company operators will be able to keep track of the fleet of moving trucks operating out of any given region much like air traffic controllers control the flow of air traffic. The GPS is also connected to wireless technology which tracks traffic in the region, allowing the operators to update drivers and suggest alternate routes.
Additional details are expected to be posted to the company website as soon as the initial GPS upgrade is made in the coming weeks: http://thecommercialmovers.com/. The company's Costa Mesa movers have a low accident track record, and one of the most routinely updated fleets of moving trucks in the region, and so the field test is expected to be low risk and high reward.
Press Contact
Mark Tanning
24-7 Van Lines
(877) 549-2077