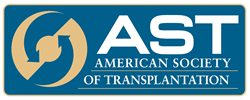 Mount Laurel, NJ (PRWEB) July 15, 2014
The American Society of Transplantation (AST), representing the majority of professionals engaged in the field of organ transplantation, today announced that Susan Nelson will be retiring as Executive Vice President later this year. Nelson, who has served in her leadership role since 1994, played a crucial part in the organization and proliferation of AST during her tenure, working with the Board of Directors to shape the society into the industry-leading voice that it is today.
When Nelson joined AST, it was called the American Society of Transplant Physicians (ASTP) and included only 600 members. At the time, the ASTP was comprised mainly of an annual meeting, a small research grants program and an occasional newsletter. Under Nelson's executive leadership and in partnership with the Board, the ASTP and then, the American Society of Transplantation, soon emerged, launching a strong membership that now numbers over 3,300 members and an infrastructure to support and serve the professional needs of members and the transplant community.
Perhaps her most impactful contribution has been the development of AST's "Communities of Practice," or (COPs), an autonomous network of special interest groups within the society that focus on initiatives and issues important to their specialty area. These COPs have contributed significantly towards member engagement and growth by recognizing, celebrating and cultivating the ongoing diversification of AST and the field of transplantation.
"Perhaps my biggest challenge during my time with the AST was keeping pace with the Board and network of volunteers whose boundless passion, energy and creativity created an abundance of new ideas to explore and initiatives to launch," said Nelson. "AST is again on the cusp of remarkable change, finding innovative ways to support transplantation and immunology research to advance the field, expanding its reach and influence into new frontiers of medicine and science, and engaging patients and the general public in our cause. There's a lot of hard work ahead, and I can't think of anyone better to help facilitate this new era than Libby McDannell, whose vision and skill will serve the AST well going forward."
Libby McDannell will take over as executive vice president of the American Society of Transplantation on October 1, 2014 and brings with her an extensive background of association management knowledge and experience. Since McDannell joined AST in 2009 as executive director, she has managed internal operations for the society. She views transplantation as a team environment and plans to continue forming strategic alliances that will lead to more opportunities for collaboration and growth.
"I've always seen my role as being a steward for the society," said McDannell. "My goal is to facilitate visionary thinking and help create a culture of possibilities, forming a tight fit around our mission and purpose. It has been such a pleasant, humbling experience working with Susan, a woman whom I consider a strong mentor and a good friend."
As a leading voice for the greater transplantation community, AST is committed to promoting research, education, advocacy and organ donation. Both Nelson and McDannell will join the society and thousands of other transplant professionals this year at the World Transplant Congress (WTC) in San Francisco from July 26-31. A joint collaboration of the American Society of Transplant Surgeons (ASTS), The Transplantation Society (TTS), and the American Society of Transplantation (AST), the 2014 WTC will bring together transplant scientists, physicians, surgeons, trainees, nurses, organ procurement personnel, pharmacists and other associated transplant professionals from around the world.
For more information about the American Society of Transplantation, please visit http://www.myast.org or join us on Facebook at https://www.facebook.com/AmericanSocietyofTransplantation.
About The American Society of Transplantation (AST)
The American Society of Transplantation (AST) is an organization of transplant professionals who are dedicated to advancing the field of transplantation and improving patient care by promoting research, education, advocacy, and organ donation. The Society comprises more than 3,300 transplant physicians, surgeons, scientists and allied health professionals. For more information about the Society, go to http://www.myast.org.